Synchronized Crystal Clock has multi-vendor GPS interface.
Press Release Summary: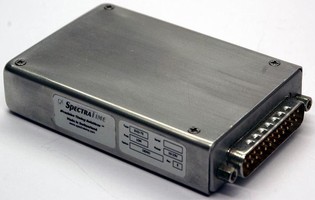 Provided in one integrated package, SXO-75 synchronized crystal SynClock+ engine uses integrated synchronization functionality to eliminate need for external GPS sync circuit. SmarTiming+ technology features programmable outputs, phase offset adjustment, and auto-adaptive filtering of jitter, wander, and noise at 1 ns resolution for up to 100,000 sec. It also provides stability over temperature behavior modeling and programmable GPS-phase sync or reference frequency track mode.
---
Original Press Release:

SpectraTime Introduces Industry's First GPS-Synchronized Crystal SynClock+ Engine



Neuchatel, Switzerland (word count: 583) SpectraTime, a global leading supplier of low-cost, smart rubidium and crystal high precision timing solutions, today announced the release of the SXO-75, the first synchronized crystal SynClock+ engine offering integrated synchronization functionality to eliminate the need for an external GPS sync circuit in many applications, at the PTTI show in Long Beach, Calif. (For more information on PTTI, please visit tycho.usno.navy.mil/ptti.html.) This clock is designed for use by professionals in broadcast, defense, telecommunications, and other industries.

The SpectraTime SXO-75 is a patented, low-cost synchronized crystal clock, which features a host of value-added integrated synchronization functions through its advanced SmarTiming+ technology. It allows customers to reduce cost and size by integrating synchronization features into one standard package, where they were previously implemented externally on a complex, separate circuit board.

Main characteristics of the new SXO-75 Clock:
SmarTiming+ provides a multi-vendor GPS interface, auto-adaptive filtering of jitter, wander and noise at state-of-the-art 1 nanosecond resolution for up to 100,000 seconds, programmable outputs and phase offset adjustments. In addition, it provides complex stability over temperature behavior modeling, programmable GPS-phase sync or reference frequency track mode, and an EEPROM device for seamless frequency calibration and software upgrades.

The SXO-75 is compatible with the smart Rubidium SRO-100, enabling customers to design one circuit seamlessly incorporating two types of clock technology at different price levels. The new smart SynClock+ is targeted at telecommunications, navigation, defense, broadcasting, and instrumentation applications. It offers customers in these markets with core, off-the-self timing know-how so they can focus on their core expertise, while reducing cost and shortening time-to-market issues.

Availability:
The SXO-75 is readily available now, and is priced at less than $400 for large quantities.

For more information about the smart SXO SynClock+, visit our website at www.spectratime.com.

About SpectraTime:
SpectraTime, a company of the Orolia group, is a leading designer and manufacturer of advanced, low-cost rubidium and crystal oscillators, atomic clocks, smart GPS, and multi-reference synchronized clocks, integrated GPS systems and high-precision instruments. Its products are used in a wide variety of high-performance applications including broadcasting, defense, instrumentation, navigation, telecommunications, and space. www.spectratime.com

About Orolia SA:
Orolia, a precision electronics technology group, brings together branded leading-edge companies specialized in high-precision time and frequency solutions systems for mission-critical applications. Orolia includes three companies: SpectraTime, Spectracom, and T4 Science. Orolia's companies develop and market systems that produce and distribute ultra-high precision signals through information networks in large and growing high-end markets, such as defense, navigation, security, and space as well as broadcasting and telecommunications. These systems are deployed in a number of countries in Europe, Asia, and North and South America. Orolia has committed to an accelerated growth strategy through acquisitions (companies, products, technologies). Orolia's headquarters is located in Les Ulis, France, and the company also has offices in Neuchatel, Switzerland, and Rochester, N.Y. www.orolia.com

For more information, please contact:

SPECTRATIME
Nino De Falcis
Tel.: +1 (512) 394-8463
E-mail: nino@spectratime.com
Web: www.spectratime.com

or:

FRENCH TECHNOLOGY PRESS OFFICE
205 North Michigan Avenue, Suite 3740
Chicago, IL 60601
Fax: (312) 327-5261
E-mail: contact.ftpo@ubifrance.fr

More from Construction Equipment and Supplies