Synchronization Module offers Free-Run and Holdover modes.
Press Release Summary: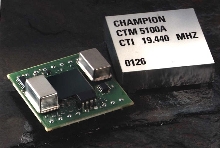 Model CTM5100 Advanced Frequency Synchronization Module synchronizes to external references and outputs clean, stable, downstream clock. It accommodates 2 reference sources via programmable inputs at 8 kHz and its synthesized output frequency is offered at selected frequencies to 38.88 MHz. Features include continuous frequency-offset based reference monitoring and qualification, phase alignment algorithms, and digital filtering and DSP.
---
Original Press Release:
Champion Launches Advanced Stratum 3 Frequency Synchronization Module

Franklin Park, IL - Champion Technologies, Inc. is pleased to announce the introduction of the CTM5100 Advanced Frequency Synchronization Module. This device synchronizes to external references, outputting a clean, stable, low jitter downstream clock. The CTM5100 is fully compliant with ANSI T1.101, Telcordia GR-1244-CORE, Telecordia GR-253, and ITU-T G.813 standards. The CTM5100 accommodates two reference sources (primary and secondary) via programmable inputs, typically at 8 kHz. The synthesized output frequency is available at selected frequencies up to 38.88 MHz. This device uses Champion's proven K2005AS OCXO and K1603T TCXO. Its compact case measures 2.0 X 2.0 X 0.75 inches.

Some features include:
- Continuous frequency-offset based reference monitoring and qualification of both input references.
- Advanced phase alignment algorithms for eliminating downstream phase hits for all rearrangements, including switching between references and into and out of Holdover.
- Customizable state transition configurations.
- Advanced digital filtering and DSP.
- Alarm Outputs providing notification of Loss of Signal (LOS) and Loss of Lock (LOL).
- Holdover Mode during which the device maintains the previously locked reference to 370 ppb/day overall stability until a qualified reference is available.
- Free-Run Mode references the output to the internal reference oscillator's nominal frequency, in the event of no history for Holdover or valid references.

CTM5100A is available immediately. Pricing for this device is available upon request.

Champion is a market leader in the manufacture and development of frequency control devices, including clock oscillators, VCXOs, TCXOs, TCVCXOs, PLL & Frequency Translation Modules and VCOs.

For more information on Champion products, call 800-888-1499 or visit us on the web at www.champtech.com.
More from Computer Hardware & Peripherals