Switching Regulators provide small footprint.
Press Release Summary: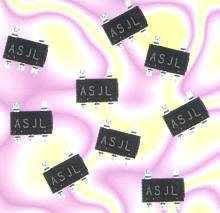 S-835X Series of PWM and PWM/PFM CMOS switching regulators consist of reference voltage source, oscillation circuit, error amplifier, phase compensation circuit, PWM control Circuit (S-8355/57) and PVWM/FM switching control circuit (S-8356/58). Oscillation frequencies of 100, 250, and 300 kHz are available. Regulators have low operation current consumption of 25.9 microA (3.3 V, 100 kHz). SNB6B package is 55% smaller than SOT-23 package.
---
Original Press Release:

Seiko Announces Ultra-Small Step-Up Switching Regulators


Torrance, CA, March 18, 2002. Seiko Instruments introduces the ultra-small S-835X Series of PWM and PWM/PFM CMOS switching regulators. The S-835X Series consists of a reference voltage source, an oscillation circuit, an error amplifier, a phase
compensation circuit, a PWM control Circuit (S-8355/57) and a PVWM/FM switching control circuit (S-8356/58). The S-835X Series is available in four different packages including the ultra-small SNB6B which offers a 55% footprint reduction when compared
with the SOT-23 package. Oscillation frequencies of 100, 250 and 300 kHz are available. The S-835X Series switching regulators are ideal for a wide range of applications, including digital cameras, notebook PCs, PDAs, portable audio devices, video cameras and communication equipment.

The S-8355/57 Series realizes low ripple, high efficiency and excellent transient characteristics with the PWM control circuit. The S-8356/58 Series switches its operation to the PFM control circuit with the PWM/PFM switching control circuit under light loads to provide high efficiency over all load conditions.

The S-835X Series features low operation current consumption of 25.9 microA (3.3 V, 100 kHz, typ.), soft start function and shutdown function. Engineers can select output voltages
from 1.5 V to 6.5 V in 0.1 V steps for the E, G, and J models and from 2.0 V to 6.5 V in 0.1 V steps for the B, H, F, K, L and M models. Duty ratios are 0% to 83% (0-78% for 250 and 300 kHz models) for the S-8355/57 and 15% to 83% (15-78% for 250 and 300
kHz models) for the S-8356/58.

The S-835X Series is available now and is priced at $0.36 each for the SNB6B package and $0.35 for other package options in quantities of 10,000 through a national network of authorized distributors, including All American and Mouser. Samples are available.

Full technical specifications, application notes and FAQs are available at the following site:

http://seiko-usa-ecd.com/intcir/products/power/s8355-56-57-58.html

ABOUT SEIKO
Seiko Instruments' semiconductor technology originated in the integrated circuits used in Seiko watches. This application demands ultra-low power consumption coupled with precision performance, high processing accuracy and top quality. Seiko Instruments has adapted this basic CMOS technology to create a line of standard products for energy management. These ICs feature the lowest current consumption available to give you the
longest battery life, or the most energy efficient operation for line operated equipment. Seiko Instruments is totally committed to providing the highest quality semiconductors to enhance the value of its customers' end products. Seiko Instruments' IC products include: Internet ICs, Switching Regulators, Voltage Detectors, Single Gate Logic ASSPs, Low DropOut (LDO) Voltage Regulators, Real Time Clocks, Temperature Sensors and Low Voltage E2PROMs.

For sales information, please contact Seiko Instruments USA Inc. at 2990 West Lomita Blvd., Torrance, CA 90505. Phone: 800/934-9334. FAX: 909/975-5699. E-mail: seiko-ecd@salessupport.com.

Check out the Web site at: seiko-usa-ecd.com.

For an electronic version of this release, please go to:
http://kprinc.com/news_bureaus/seiko_instruments_USA.htm

Editorial Contacts:
KPR, Inc.
Nathan Abler or David Kaye
Phone: 818/368-8212
Email: nathan@kprinc.com or dave@kprinc.com

Seiko Instruments
Alan Takayama
Phone: 310/517-7784
Email: alan.takayama@seiko-la.com


More from Agricultural & Farming Products