Switching Power Supply provides 18 kW in 3U size.
Press Release Summary: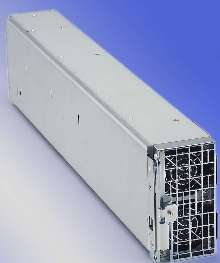 AC-to-DC Model HPS3KW is housed in 5.25 in. bulk front end. Modules deliver 3000 W of output power at 85% efficiency and 19 in. rack can be configured with up to 6 devices for total of 18,000 W of power in less than 2,400 cu in. Single-output devices provide 48 Vdc output at 57 A. Modules accept ac input from 180 to 264 Vac and feature active power factor correction greater than 0.98 to meet EN61000-3-2 requirements for input current harmonic content.
---
Original Press Release:

Astec Power First to Provide up to 18KW in 3U Bulk Power Supply


HPS3KW Rack-Mount Modules Offer Flexibility for DPA including N+1 Redundancy to 15kW

CARLSBAD, Calif. - June 10, 2003 - Astec Power, a leading merchant supplier of power conversion solutions, has set another standard as the first to offer up to 18KW in a 3U (5.25-inch high) bulk front end with the introduction of its new HPS3KW line of high-efficiency AC-to-DC switching power supplies. Individual HPS3KW modules deliver 3000W of output power at 85 percent efficiency and a 19-inch rack can be configured with up to six of the compact devices for a total of 18,000 watts of clean bulk DC power in less than 2,400 cubic inches of rack space. For maximum system reliability, the hot-swappable modules can also be configured for N+1 redundancy with up to 15KW in the same space.

An extension of Astec's popular HPS Series of bulk front end power supplies with power ranges from 350 W to 6000W, the new model addresses a wide range of distributed power architecture (DPA) requirements for industrial, test, instrumentation, networking and telecom applications where designers seek reliable and cost effective power solutions. The HPS3KW modules accept AC input from 180VAC to 264VAC and feature active power factor correction (typically > 0.98) that meets EN61000-3-2 requirements for input current harmonic content. The single-output devices provide 48VDC output at 57Amps and also offer a standby supervisory output of 5V at 5A. Each module has over-voltage and over-current protection, active inrush current limiting circuitry and an internal OR-ing device. The fan-cooled units require 5.7A (10 percent) minimum load and include built-in EMI filtering, forced current sharing between modules operating in parallel, and remote programmability (margining) of the main output voltage. Additionally, all HPS3KW modules are standard with N+1 diode isolation and addressing for I2C communications.

The new HPS modules comply with worldwide safety and performance standards including UL/cUL, NEMKO, TUV and CE Mark. Designed to meet FCC Class A and CISPR22/EN 55022 Level A requirements for conducted and radiated emissions, the HPS modules also meet all industry standard noise and immunity requirements.

Available now, OEM pricing starts at less than $0.25 per Watt for basic modules, excluding rack hardware. The 3U 19" rack can be ordered separately. For more information, contact a local Astec Power representative, which can be found on the Astec Power web site at astecpower.com . Click on the SALES OFFICE button, on the home page, to locate the closest Astec Power representative.

About Astec Power

Astec Power is a leading international supplier of power conversion solutions. A wholly owned subsidiary of Emerson (NYSE: EMR), Astec Power is headquartered in Carlsbad, CA. Dedicated to advanced research and development, state of the art design, sophisticated automation and in-process testing, Astec Power produces standard, modified standard, and custom AC/DC and DC/DC power supplies, which range from one to 18,000 Watts. In order to satisfy and continue to grow its international customer base, Astec Power has operations in three continents. Through this strategic allocation of its manufacturing resources, Astec Power delivers competitively priced quality products worldwide in a timely and reliable manner.

About Emerson

St. Louis-based Emerson (www.gotoemerson.com) is a global leader in bringing technology and engineering together to provide innovative solutions to customers in process control; electronics and telecommunications; industrial automation; heating, ventilating and air conditioning; and appliance and tools. Sales in fiscal 2002 were $13.8 billion.


Related