Switching Power Supply offers interchangeable input plugs.
Press Release Summary: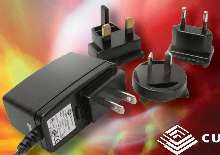 Featuring 4 interchangeable input plugs designed for international compatibility (U.S./U.K./European/Australian), Diplomat series switching power supply comes in 2.83 x 1.81 x 1.38 in. package with perpendicular orientation. Plugs securely lock into place and release with push of button. Rated at 10 W, series has 3.3-24 Vdc voltage output range and short-circuit and over-voltage protection; accepts universal input voltage; and is UL/cUL/TUV/CE approved.
---
Original Press Release:

10 W Switcher Offers Interchangeable Plugs in a Compact Package


December 10, 2003
Beaverton, OR

CUI Inc. introduces the Diplomat series switching power supply, featuring four interchangeable input plugs designed for international compatibility. The plugs (U.S., U.K., European, and Australian) securely lock into place, quickly releasing with the push of a button. The slim-style packaging (2.83 x 1.81 x 1.38 inches) and perpendicular orientation allow the Diplomat to occupy a minimum amount of space when plugged into a power strip.

Rated at 10 watts, the Diplomat's voltage outputs range from 3.3 to 24 Vdc. All Diplomat power supplies offer short-circuit and over-voltage protection, accept universal input voltage, and are UL/cUL/TUV/CE approved.

The Diplomat (with plug components) is sold as one SKU number, and comes individually packaged with all plugs in an accessible component box. Complete power supply sets start at $16.35 per 100 through Digi-Key. Call for OEM pricing.

The Diplomat exemplifies CUI's versatility. Since 1989, CUI Inc. has provided a wide variety of industrial, desktop, and custom-built power supplies for OEM manufacturing. They continually advance in developing adaptable and efficient products at competitive prices.

Summary:

o Product name: Diplomat series switching power supply
o Availability: select models available immediately through Digi-Key
o Possible users: consumer, computer peripheral, and portable product manufacturers with distribution in multiple countries
o Primary feature: interchangeable input plugs
o Primary benefit: one part number for products sold in multiple countries or even multiple products
o Cost: $16.35 in quantities of 100

For more information, contact:
Seana Bindner, Director of Marketing and Communications
Phone: 503-372-1269 E-mail: sbindner@cui.com

For technical questions, contact:
Trever Dougan, Components Sales Manager
Phone: 503-372-1255 Email: tdougan@cui.com

More from HVAC