Switching Power Supply offers high efficiency in small package.
Press Release Summary: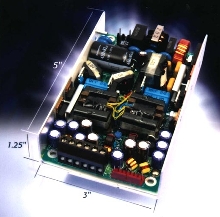 Rated at 130W, AC/DC Model AAD130 offers 83% efficiency, and measures only 1.25 x 3.0 x 5.0 in. With 4 outputs, power-factor-corrected switching power supply features current sharing between outputs of similar units. AAD130 is capable of correcting input waveform to better than 0.98 power factor at full load between 90 and 264 Vac input. It meets IEC1000-3-2 harmonic distortion specifications and includes chassis for durability.
---
Original Press Release:
New High-Efficiency Miniature AC/DC Switching Power Supply for Datacom/Telecom is One of World's Smallest and Most Durable

Taiyo Yuden Launches New Switching Power Supply Series with the 130W Model AAD130

SAN MARCOS, CA -March 13, 2002 - Taiyo Yuden (U.S.A.), Inc. Power Systems Group announces its new switching power supply, the Model AAD130. Featuring 83% efficiency and measuring just 1.25" x 3.0" x 5.0", the four-output, 130W switcher is designed to be one of the smallest and most durable PFC switching power supplies in the world, and is the first in Taiyo Yuden's new, high-density, power-factor-corrected switching power supply series for data communications and telecommunication and other 1U applications. In addition, the current sharing feature between outputs of similar units, make the AAD 130 power supplies ideal for parallel/redundant applications.

The AAD 130 is capable of correcting the input waveform to better than 0.98 power factor at full load between 90 and 264VAC input, enabling it to meet the mandatory IEC1000-3-2 harmonic distortion specifications and other agency approvals. Unlike other high-density AC/DC converters, the addition of a chassis increases durability and reliability by reducing component temperatures.

Input from design engineers and power supply specifiers surveyed regarding unit configurations, transient response, input/output connectors, and other characteristics was considered in the design of the AAD 130. Customer input will also be used to guide the development of subsequent AAD series power supplies.

The AAD Series is the result of an international collaboration between Japan Taiyo Yuden and Taiyo Yuden (U.S.A.), Inc., and combines, respectively; the superior packaging skills and power supply development expertise of each company.

Price: $60 in OEM quantities
Availability: Production begins spring 2002.
Delivery: Stock to 8 Weeks

Taiyo Yuden (U.S.A.), Inc. is a leading manufacturer of OEM power supplies for the industrial, medical, computer and telecommunicationis markets. The AAD130 is manufactured in Taiyo Yuden (U.S.A.), Inc.'s ISO9001-certified facilities in North America.

For further information, contact:
Stan Miner, Director, Sales/Marketing
Taiyo Yuden (U.S.A.), Inc. Power Systems Group
1770 La Costa Meadows Dr * San Marcos, CA 92069
(760) 510-3200; Fax: (760) 471-4021
URL: www.t-yuden.com
Toll Free: (800) 493-6835
E-mail: powerproducts@t-yuden.com

Mike Gerow, PR Director
WelComm, Inc.
Advertising * Public Relations
7975 Raytheon Road, Ste. 340
San Diego, CA 92111
(858)279-2100 Fax: -5400
E-mail: mike@welcomm.com
URL: www.welcomm.com
More from Electrical Equipment & Systems