Switching Multiplexer offers 8 and 16 way MUX configurations.
Press Release Summary: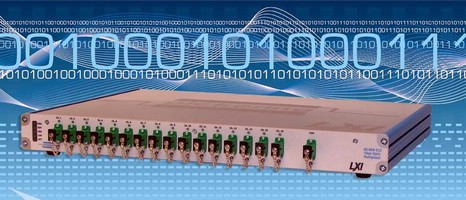 Housed in compact 1U high form factor, Models 60-850 (single mode) and 60-851 (multimode) optical switching multiplexers are suited for use in rack mounted applications. All optical connections are provided on front panel, and include captive dust covers to protect connectors when they are not in use. LXI Class C compliant interface allows units to be remotely controlled via its Ethernet port through web browser or by programmatic interface.
---
Original Press Release:

Pickering Interfaces Introduces New LXI Optical Switching Solution



Clacton on Sea, UK, 16th October 2007 --Pickering Interfaces is expanding its range of LXI compliant switching products with the introduction of the 60-850 and 60-851 optical switching multiplexer.

The 60-850 (single mode) and 60-851 (multimode) offer 8 way and 16 way MUX configurations with a variety of connector options to suit most applications. Other configurations can be provided on request.

The switching system is housed in a compact 1U high form factor, making it ideal for use in rack mounted applications. All optical connections are provided on the front panel and include captive dust covers to protect the connectors when they are not in use.

The LXI Class C compliant interface allows the 60-850/1 to be remotely controlled via its Ethernet port through a web browser or by the programmatic interface. Controlling the 60-850/1 through the web even at great distances could not be simpler. The 60-850/1 LXI compliant interface serves up a soft front panel application that allows the user to control the switching matrix without the time consuming installation and configuration of drivers. In addition to Kernel and IVI drivers the 60-850/1 is supplied with an SNMP interface to simplify remote access.

The products are the latest in an expanding range of LXI compliant switching products available from Pickering Interfaces. David Owen, Business Development Manager for Pickering Interfaces commented "LXI is a rapidly growing part of our business. It has gone from nothing to being a significant proportion of revenue in less than 2 years. We are particularly pleased to be able to offer the 60-850/1 optical switching; it complements our existing range of PXI optical solutions that can be supported in an LXI environment using our 60-100 LXI Modular Chassis. As fiber is finding new markets in areas such as entertainment and Fiber To The Home, we see a strong need for this type of product in support of the infrastructure."

These products are available now and pricing can be found on our web site, www.pickeringtest.com

About Pickering Interfaces

Pickering Interfaces is a market innovator in signal switching and conditioning for a broad range of applications and architectures, with the largest range of switching cards in the industry for PXI, LXI, PCI, VXI and GPIB applications. Pickering Interfaces has provided solutions to both commercial and military applications. In addition, Pickering's range of instrumentation provides innovative test solutions to users and integrators of modular test systems. Pickering Interfaces operate globally with direct operations in the US, UK, Germany, Sweden, France , Czech Republic, and Engineering support in China, together with additional representation in countries throughout the Americas, Europe and Asia.

Sales Contact for the US :
bob.stasonis@pickeringtest.com
Tel. +1 781-897-1710