Switching Mode Power Supplies come with back-up option.
Press Release Summary: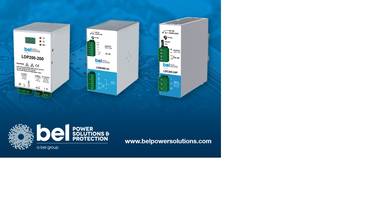 Suitable for automation, process control and semiconductor manufacturing industry, Switching Mode Power Supplies are available in single, two or three phase supply models. Designed with wide range of input supply options and output power, units available for buffering, DC backup and battery charging, UPS and active Oring control.
---
Original Press Release:
Bel Power Solutions Launches Full Range of DIN Rail Power Supplies
Complete Range Available from Low Power and Ultra-compact, to Programmable, Wide Input and 3 Phase High Power
Bel Power Solutions, a division of Bel Fuse Inc., (NASDAQ:BELFA and NASDAQ:BELFB), a premier global manufacturer of power management devices, announces the release of their DIN Rail Switching Mode Power Supply portfolio, ideal for use in a broad range of industrial applications.
"Bel is proud to announce a major extension to our DIN Rail offering. The new products complement our existing offering of rugged Melcher™ products and positions Bel strongly as a broad line supplier of DIN Rail products", said Dennis Ackerman, President of Bel Power Solutions. "With solutions like the LDP200, which allows users to program the device to a custom output voltage, Bel continues to expand the power portfolio with innovative solutions to solve more problems for our customers."
General Purpose Single Phase
The LDN Series are single phase power supplies which accommodate the universal input voltage of 90 - 264 VAC, 47 - 63 Hz or 110 - 345 VDC, with output voltages range from 5 to 72 VDC.
Wide Input
The LDW Series are single, two or three phase, wide input range switching mode power supplies with universal input 185 - 550 VAC or 350 - 725 VDC, for powers from 120 to 480 W. Units are provided with hiccup at the overload limit with auto reset, over temperature and overvoltage protection.
Power in a Compact Package
The LDC Series are ultra-compact (the LDC120 Series is only 35 mm wide), single phase power supply units covering an input voltage range of 120 - 240 VAC or 110 - 345 VDC, with an output power range from 120 to 480 W.
High Power up to 2400W
The LDT Series provides 3 Phase high power in a minimum form factor. 3 Phase input is 340-550VAC for power from 480 to 2400 W, from 12 to 170V.
You Decide: User-Programmable Versatility
The LDP 200 Series models are the first user-programmable units with active PFC, offering unmatched flexibility. Digitally controlled, they provide two user-programmable voltage steps with settable duration and can supply any voltage between 36 and 205 VDC.
DC/DC Supplies for all DC Input Voltages
The LDD Series DC/DC converters are isolated and cover all DC/DC voltage inputs: 12, 24, 48 and 110 VDC. They are a perfect choice for when compactness and high reliability are key.
The Bel Power Solutions line of DIN Rail Power Supplies have been designed for use in many industrial applications, including automation, process control, semiconductor manufacturing and packing equipment. Back-up and redundancy solutions are also available for buffering, DC backup and battery charging, UPS and active Oring control.
Power | Protect | Connect
Your Bel Power sales representative can be found here. You can also send an eMail to Tech.Support@psbel.com for any technical inquiries. Our complete library of DIN Rail datasheets can be found here at belpowersolutions.com. Bel Power Solutions' products are also available worldwide through our distribution partners.
About Bel Fuse
Bel Fuse designs, manufactures and markets a broad array of products that power, protect and connect electronic circuits. These products are primarily used in the networking, telecommunications, computing, military and aerospace, transportation and broadcasting industries Bel's product groups include Magnetic Solutions (integrated connector modules, power transformers, power inductors and discrete components), Power Solutions and Protection (front-end, board-mount and industrial power products, module products and circuit protection), and Connectivity Solutions (expanded beam fiber optic, copperbased, RF and RJ connectors and cable assemblies). The Company operates facilities around the world. Learn more about Bel Fuse products and services at www.belfuse.com.
Corporate Contact:
Dara Crowe, Bel Power Solutions
Media Contact:
Susan Rawlish, Bel Power Solutions
Related