Switches, Dimmers, and Receptacles have titanium design.
Press Release Summary: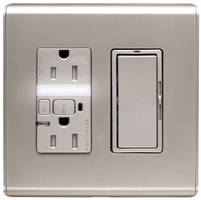 Comprised of switches, dimmers, tamper-resistant receptacles, and tamper-resistant GFCI receptacles, P&S Titanium Devices upgrade and enhance kitchens and bathrooms. Products have smooth titanium coating and corrosion-resistant surface suited for high-impact areas. Compatible with all 17 colors from On-Q Studio Collection, products feature finish that withstands continuous everyday use. Receptacles also have tamper-resistant shutter system that prevents insertion of foreign objects.
---
Original Press Release:

Upgrade Your Kitchen and Bathroom's Look with Legrand/Pass & Seymour's Elegant Titanium Devices



SYRACUSE, N.Y. - Legrand/Pass & Seymour (P&S), a leading provider of electrical wiring devices and home systems, announces its new P&S Titanium Devices which provide a simple and quick way to upgrade and enhance today's kitchens and bathrooms.

The Titanium Devices are available in switches, dimmers, tamper-resistant receptacles and tamper-resistant GFCI receptacles. They are elegant, understated and both complement and enhance modern cabinets, light fixtures, plumbing fixtures and appliances.

"P&S Titanium Devices are very attractive, yet very tough, and provide a corrosion-resistant surface ideally suited for high-impact areas like kitchens and bathrooms," says Tom Roy, product manager for Residential Devices at Legrand/Pass & Seymour. "In addition, they are compatible with all 17 colors from the On-Q Studio Collection. This creates an abundance of choices for home remodeling and décor enthusiasts."

With a smooth, sleek titanium coating that provides a sophisticated look, P&S Titanium Devices have a premium finish that withstands continuous everyday use. Safety is an important feature. All Titanium Device receptacles have a tamper-resistant shutter system that keeps kids safer by preventing the insertion of foreign objects.

The Pass & Seymour Titanium Devices are available in the United States and Canada through appointed distributors.

Legrand/Pass & Seymour is a leading provider of electrical wiring devices and accessories in North America. For more information, call 1-800-776-4035 or visit www.legrand.us/passandseymour

About Legrand
Legrand is the global specialist in electrical and digital building infrastructures. Its comprehensive offering of solutions for use in commercial, industrial and residential markets makes it a benchmark for customers worldwide. Named to Forbes'2011 list of the 100 Most Innovative Companies, Legrand believes innovation for a steady flow of new products with high added value is a prime vector for growth. Legrand reported sales of $5.7 billion in 2010. Legrand has a strong presence in the North American market, with a portfolio of well-known product lines that include Cablofil, Electrorack, On-Q, Ortronics, Pass & Seymour, Vantage, Watt Stopper and Wiremold. The company is listed on NYSE Euronext and is a component stock of indexes including the SBF120, FTSE4Good, MSCI World, ASPI. In 2010, Legrand was added to the European DJSI as well (ISIN code FR0010307819). www.legrand.us


More from Software