Switched Mezzanine Card supports ARINC 429.
Press Release Summary: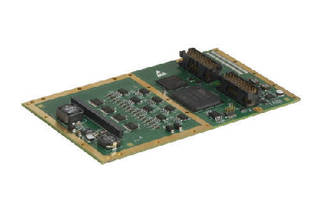 Designed for embedded, laboratory, and simulator applications, RAR-XMC High Density XMC Interface supports maximum data throughput on all channels while providing onboard message scheduling, label filtering, multiple buffering options, receive message time-tagging and error detection, and IRIG-B receiver and generator. Up to 16 transmit and 32 receive channels are available. With front I/O or P14/P16 rear I/O, RAR-XMC represents next generation in avionics computing.
---
Original Press Release:

GE Broadens Range of Cost-Effective, High Performance Avionics Solutions with XMC for ARINC 429



'Next generation' XMC can be used for development or deployment

Programmable transmit/receive channels provide optimum application flexibility

Software tools minimize integration effort, shorten time to implementation



HUNTSVILLE, AL. —  GE's Intelligent Platforms  business (NYSE: GE) today announced the RAR-XMC ARINC 429 High Density XMC Interface for deployment on many single board computers. Available in a range of configurations to match customer needs, the RAR-XMC extends still further the breadth and depth of GE's cost-effective, high performance avionics offering with complete, integrated databus functionality for ARINC 429 and related protocols.



Designed for embedded, laboratory and simulator applications, the RAR-XMC supports maximum data throughput on all channels while providing onboard message scheduling, label filtering, multiple buffering options, receive message time-tagging and error detection, and IRIG-B receiver (AM or DC/TTL) and generator (DC/TTL).



"With front I/O or P14/P16 rear I/O, the RAR-XMC represents the next generation in avionics computing," said Dwayne Cripe, Product Manager at GE's Intelligent Platforms business. "The RAR-XMC specifically recognizes the way that engineers test, develop and deploy avionics on modern computing hosts. Moreover, having the same firmware and API design  for both front and conductively cooled rear I/O, the RAR-XMC application can be easily migrated from a development to a deployment environment."



Up to 16 transmit and 32 receive channels are available, with configurations supporting fixed and software-programmable transmit/receive channels. This allows users to use the same card for dynamic channel demands.



Configurations with support for ARINC 717 are optionally available. Dual-mode functionality supports either ARINC 717 HBP (Harvard Bi-Phase) or BPRZ (Bi-Polar Return to Zero) across a range of bit rate/sub-frame combinations.



GE's software tools and solutions significantly reduce the time required to integrate ARINC 429 and other avionics protocols into an application. Included with the RAR-XMC is GE's flexible, high-level, API (Application Programming Interface) support for Windows® 7, Vista, XP, VxWorks® and Linux® Kernel Versions 2.6 and 3.x. This powerful API supports multiple cards, and is compatible with GE's API support on PCI, PCI Express®, PC/104-Plus, Express Card,  CompactPCI / PXI, and PMC platforms.



About GE's Intelligent Platforms business

GE's Intelligent Platforms business (NYSE: GE) is headquartered in Charlottesville, VA and part of GE Energy Management. The company's work in the military/aerospace segment, headquartered in Huntsville, AL, and Towcester, England, provides one of the industry's broadest ranges of high performance, rugged, SWaP-optimized embedded computing platforms. Backed by programs that provide  responsive customer support and minimize long term cost of ownership for multi-year programs, GE's solutions are designed to help customers minimize program risk and cost, and to speed time-to-market. For more information, visit geembedded.com.



Windows is a registered trademark of Microsoft Corporation. VxWorks is a registered trademark of Wind River Systems Linux is the registered trademark of Linus Torvalds. PCI Express is a registered trademark of PCI-SIG. CompactPCI is a registered trademark of the PCI Industrial Computer Manufacturers Group. All other trademarks are the property of their respective owners.



Ian McMurray

Media Relations Manager

GE Intelligent Platforms

Tove Valley Business Park

Towcester

Northamptonshire

England NN12 6PF

Telephone:  +44 (0)1327 322821

Email: ian.mcmurray@ge.com

Web:  www.geembedded.com



GE Intelligent Platforms Ltd, registered in England and Wales (3828642) at 100 Barbirolli Square, Manchester, M2 3AB, VAT GB 729 849 476

More from Agricultural & Farming Products