Switch offers non-contact interruptive object sensing.
Press Release Summary: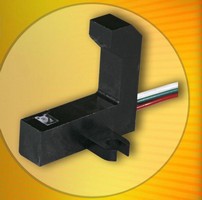 Series OPB420 slotted optical switch has 880 nm wavelength infrared LED and phototransistor housed in right angle package that allows for opaque object to block light beam from multiple directions, including X-, Y-, and Z-axes. It features 2 Vdc reverse voltage, reverse current of 100 mA, and operating temperature range of -40 to +85°C. Electrical performance of output phototransistor is characterized at collector-emitter voltages of 24 and 30 V and power dissipation of 100 mW.
---
Original Press Release:

OPTEK Develops Slotted Optical Switch for Non-Contact Object Sensing



Right angle package configuration blocks light beam from multiple directions...

CARROLLTON, TX (July 10, 2008) -- Providing design engineers with a transmissive sensing device for office and automation applications, TT electronics OPTEK Technology has developed a slotted infrared optical switch for non-contact interruptive object sensing. Designated the OPB420 Series, the switch includes an infrared LED and phototransistor, with both devices housed in a right angle plastic package. This configuration allows for an opaque object to block the light beam from multiple directions, including the X-, Y-, and Z-axes.

"The OPB420 Series device is one of the industry's only slotted optical switch that provides protection from low level light conditions and immunity from background irradiance," said Alan Bennett, vice president of sales and marketing for OPTEK Technology. "This switch meets the growing demand from customers searching for a transmissive optical switch that provides increased flexibility in a variety of output configurations."

Typical applications for the OPB420 Series include low paper tray sensors, corner sensors, door sensors, tray sensors, printers, copy machines, paper and mail sorting equipment, amusement gaming equipment and medical equipment.

The OPB420 Series switch features an 880nm wavelength infrared LED with a power dissipation of 100mW. The input diode's maximum forward current is 50mA and maximum forward voltage is 1.7V (If=20mA). Reverse DC voltage is 2V, with reverse current of 100mA (Vr=2.0V). Electrical performance of the output phototransistor is characterized at collector-emitter voltages of 24V and 30V and power dissipation of 100mW. Operating temperature range is -40 °C to +85 °C.

Typical pricing for the OPB420 Series is $3.43 to $3.48 each in quantities of 1,000. Lead time, if stock is not available, is from 4 to 6 weeks

For more information about OPTEK's slotted optical switches, contact TT electronics OPTEK Technology at 1645 Wallace Dr., Carrollton, TX, 75006; call 972-323-2200, or visit OPTEK on the web at www.optekinc.com/viewparts.aspx?categoryID=23.

In Europe, contact JP Delaporte at info@optek-europe.com. In Asia, contact T.H. Swee at thswee@optekasia.com or call +852-9190-4641.

OPTEK is a leading manufacturing and solutions provider for sensing and illumination covering the infrared, visible and ultraviolet spectrum; with standard as well as application specific products for a variety of markets, including, but not limited to office machines, industrial equipment, encoders, automotive electronics, military and high-reliability applications, medical diagnostic equipment and solid-state lighting. Headquartered in Carrollton, TX, the company is ISO/TS16949:2002 and BS EN ISO 9001:2000 certified, as well as ITAR registered. OPTEK Technology was acquired by TT electronics in December 2003.

TT electronics plc is a global electronics company manufacturing a broad range of advanced electronic components, assemblies and sensor modules for the automotive, industrial, telecommunication, computer and aerospace markets.

More from Electrical Equipment & Systems