Switch Modules integrate with virtual instrumentation products.
Press Release Summary: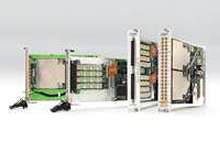 Models PXI-2593 and SCXI-1193 are RF switch modules with 16 channels in PXI and 32 channels in SCXI. Using NI-SWITCH instrument driver software, design and test engineers can configure modules as unterminated multiplexer, terminated multiplexer, or dimensionally flexible sparse matrix. Models PXI-2566 and SCXI-1166 offer independent, high-current, SPDT relays with 16 relays in PXI and 32 relays in SCXI. All 4 modules track and store number of relay cycles used in system.
---
Original Press Release:

National Instruments Expands PXI and SCXI Switch Offering


AUSTIN, Texas -- July 21, 2003 -- National Instruments expands its family of switch products to include four new high-density PXI and SCXI switch modules. The modules seamlessly integrate with NI virtual instrumentation products, such as the NI PXI-5112 high-speed digitizer and NI LabVIEW 7 Express.

The NI PXI-2593 and NI SCXI-1193 are highly flexible RF switch modules with 16 channels in PXI and 32 channels in SCXI. Using NI-SWITCH instrument driver software, design and test engineers can quickly configure these modules as an unterminated multiplexer, terminated multiplexer or dimensionally flexible sparse matrix. The PXI-2593 and SCXI-1193 switch modules offer 500 MHz bandwidth, 50 characteristic impedance, 10 W RF carry power, 150 V CAT I switching and MCX direct connectivity.

The NI PXI-2566 and NI SCXI-1166 general-purpose switch modules offer independent, high-current, SPDT relays, with 16 relays in PXI and 32 relays in SCXI. The modules also feature switching capacity of 2 A switching/5 A carry and 150 VDC/125 VAC CAT I. The PXI-2566 and SCXI-1166 switch modules are designed to route high current signals, which makes them ideal for turning on and off devices such as motors and lights.

All four of the new modules track and store the number of relay cycles used in the system. Engineers can use the relay count information to help predict when a switch module is near the end of its life. With this capability, engineers can avoid system downtime by replacing switch modules before they fail.

Each switch module includes NI-SWITCH driver software, which works with NI LabVIEW 7 Express graphical development environment, Measurement Studio and LabWindows/CVI. Engineers can use NI Switch Executive switch management software for additional assistance in configuring, programming and managing higher channel count systems.

About National Instruments
National Instruments (www.ni.com) is a technology pioneer and leader in virtual instrumentation -- a revolutionary concept that has changed the way engineers and scientists approach measurement and automation. Leveraging the PC and its related technologies, virtual instrumentation increases productivity and lowers costs for customers worldwide through easy-to-integrate software, such as the NI LabVIEW graphical development environment, and modular hardware, such as PXI modules for data acquisition, instrument control and machine vision. Headquartered in Austin, Texas, NI has more than 3,000 employees and direct operations in 40 countries. In 2002, the company sold products to more than 25,000 different companies in more than 80 countries around the world. For the past four consecutive years, FORTUNE magazine has named NI one of the 100 best companies to work for in America.

Pricing and Contact Information
NI PXI-2593 priced from $1,595; Euros1,995; ¥240,000
NI SCXI-1193 priced from $2,895; Euros3,545; ¥417,000
NI PXI-2566 priced from $895; Euros1,095; ¥135,000
NI SCXI-1166 priced from $1,695; Euros2,095; ¥245,000

11500 N Mopac Expwy, Austin, Texas 78759-3504
Tel: (800) 258-7022, Fax: (512) 683-9300
E-mail: info@ni.com
Web: www.ni.com/switches

More from Controls & Controllers