Swiss School Rejuvenated with SEFAR® VISION Laminated Fabric Interlayer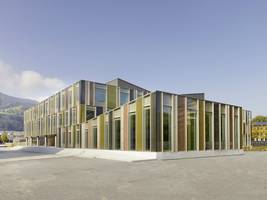 Distinct aesthetic and performance goals achieved with VISION
DEPEW, NY… Approximately 2,153 square feet (200m²) of SEFAR® VISION laminated fabric interlayer was incorporated into the Horw secondary school façade located in Lucerne, Switzerland. VISION contributed to the striking building design while reducing solar glare and overall heat gain, thereby enabling the structure to achieve the necessary high-performance standards.
Originally built in the 1970s, the dated Horw high school was modernized and refurbished during a four-year project to meet the latest requirements of Minergie — the Swiss sustainable building standard — and to improve its overall aesthetic.
A distinct texture and color profile was created with the specification of SEFAR VISION in an array of options: TI 260/25B, PR 260/25B Copper, and PR 260/25B Gold. The hues add a unique rhythm to the building, communicating a modern character while simultaneously contributing to its high-thermal-insulating profile.
SEFAR VISION fabric interlayers are used to enhance the exterior appearance of glass facades, rainscreens, curtain walls, glass rail, and interior and decorative glass partition wall systems, while preserving the views from the inside. In the Horw secondary school, the glass appears transparent from inside, while creating a signature profile from outside.
Functionally, SEFAR VISION fabric interlayers improve thermal performance by reducing solar heat gain and save building owners additional expenses on HVAC. The laminated fabric mesh interlayer also reduces glare by mitigating visual light transmission (VLT), eliminating the need for exterior louvers and interior shading systems, further reducing the capital cost to the owner.
In addition, SEFAR Architecture assists designers and façade consultants with thermal modeling reports of supplied glass buildup to demonstrate how the VISION fabric interlayer reduces solar heat gain, glare, and can reduce the need for shading in some instances.
The Horw secondary school was completed in 2017. Architectural services were provided by ARGE Lussi + Halter dipl Architekten ETH SIA BSA, and the glass manufacturer was BGT Bischoff Glastechnik AG, Bretten. The façade engineer was Sottas AG.
About SEFAR Architecture: SEFAR Architecture is a leading manufacturer of monofilament precision and ePTFE yarn fabrics and fabric systems for interior and exterior architectural applications. With comprehensive knowledge in textile architecture, Sefar has cooperated with experienced lighting technicians and polymer experts to develop a new generation of fabrics for the architectural and design community. For more information on SEFAR Architecture's products and services, call Peter Katcha at 727-388-4919 or visit www.sefar.us.
Contact: Nick Murosky, LarsonO'Brien
Phone: 412-831-1959 x123
Email: nick@larsonobrien.com
More from Test & Measurement