SWIR Fixed Focal Length Lenses suit inspection applications.
Press Release Summary: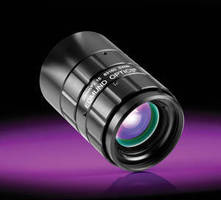 Available in 7 models, TECHSPEC® SWIR Fixed Focal Length Lenses serve applications — inspection, sorting, or quality control — operating in short-wave infrared (SWIR) spectrum from 0.9–1.7 µm. SWIR-optimized, 0.8–1.8 µm anti-reflective (AR) coatings and glass types maximize image quality. Designed to cover large, 25 mm sensors, RoHS-compliant lenses are offered in 25, 50, and 100 mm focal length models with choice of C-Mount, F-Mount, or M42 x 1.0 Mount.
---
Original Press Release:

TECHSPEC® SWIR Fixed Focal Length Lenses Ideal for Inspection Applications



Product Line Nearly Doubles



Barrington, N.J. — Edmund Optics (EO), the premier provider of optical components, introduces new TECHSPEC® SWIR Fixed Focal Length Lenses to product line. These compact, lightweight lenses are ideal for applications operating in the short-wave infrared spectrum, from 0.9 - 1.7 µm, including inspection, sorting or quality control.



Specifically Designed, Coated and Tested for SWIR wavelengths

SWIR Fixed Focal Length Lens



TECHSPEC SWIR Fixed Focal Length Lenses are specifically designed, optimized, coated and tested for the SWIR wavelength range to ensure the highest resolution and lowest aberrations. They offer many advantages when compared to standard imaging lenses that have merely been coated for the SWIR range. TECHSPEC SWIR Fixed Focal Length Lenses use both SWIR-optimized AR coatings and glass types to provide maximum image quality. These SWIR lenses feature an anti-reflective (AR) coating from 0.8 - 1.8 µm and are designed to cover large, 25 mm sensors. For convenience and ease of use, TECHSPEC SWIR Fixed Focal Length Lenses are commercial off-the-shelf (COTS) lenses. These lenses have low f/#s for high throughput and excellent performance.



Three new 100 mm focal length models now available

TECHSPEC SWIR Fixed Focal Length Lenses are now available in seven different models, increasing the product line by nearly double. The RoHS-compliant lenses are offered in 25 mm, 50 mm and now, 100 mm focal length models with a choice of C-Mount, F-Mount or M42 x 1.0 Mount. All seven TECHSPEC SWIR Fixed Focal Length Lens models are in-stock and available for immediate delivery for fast turnaround and excellent value.



About EO:

Edmund Optics® (EO) is a leading producer of optics, imaging, and photonics technology for R&D, electronics, semiconductor, pharmaceutical, biomedical, and military markets around the globe. EO is the world's largest supplier of off-the-shelf optical components. Customers can purchase items by contacting EO at 1-800-363-1992, via the catalog, or via the website at www.edmundoptics.com



Company Contact:

Kirsten Bjork-Jones

Director Global Marketing Communications

Edmund Optics®, Inc.

101 East Gloucester Pike

Barrington, NJ 08007 U.S.A.

Phone: 1-800-363-1992

Fax: 1-856-573-6295

email:

[email protected]





European Contact:

Agnes Huebscher

Director European Marketing

Edmund Optics

Zur Giesserei 8

76227 Karlsruhe, Germany

Tel.:   +49 (0)721-62737-38

Fax:   +49 (0) 721 6273750

E-Mail:  

[email protected]