Swing Reach Forklift Truck suits narrow aisle applications.
Press Release Summary: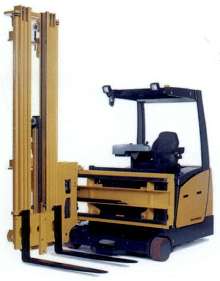 Model EFXac, with 180° swing reach mast and AC drive control, stores and retrieves pallet loads. Side shifting and rotation can be accomplished simultaneously. Product utilizes 4.4 kW, 3-phase, AC motor and offers ergonomically designed driver's cab that provides unobstructed views of forks, load, and aisle way. Truck handles 2,200-2,750 lb loads, measures 70 in. wide, and is available with 2- or 3-stage mast with max lift height of 236 and 276 in. respectively.
---
Original Press Release:
Swing Reach Stacker Forklift Truck Provides Ultimate Material Handling Solution for Narrow Aisle Loading/Retrieval
Unique Swing Reach forklift trucks (EFXac), that are compact and provide excellent maneuverability for storing and retrieving pallet loads in narrow aisle applications, are available from Jungheinrich Lift Truck Corp., Richmond, Va. The EFXac truck, designed with a patented 180-degree swing reach mast and AC drive control, is ideally suited for narrow aisles or confined spaces. The trucks are found in a host of industrial and commercial applications, such as: food distribution centers, do-it-yourself home centers, industrial warehouses, manufacturing plants, processing facilities and assembly lines, among others. The truck's rotating mast allows loads to be picked up and retrieved from either side of the storage aisle. End positions during side shifting and rotation of the forks are approached at crawl speeds to protect the load. For quicker storage and retrieval, side shifting and rotation can be accomplished simultaneously. A powerful 4.4kW, 3-phase AC motor provides the muscle to handle forklift travel and lifting requirements. And, the AC technology extends the truck's in-service capabilities and performance. The truck has an ergonomically designed driver's cab that provides unobstructed views of the forks, load and aisle way. An adjustable steering column allows the driver to operate the electronic steering for effortless maneuverability, even in confined areas. EFXac Truck Details The EFXac Swing Reach Stacker handles loads from 2200 up to 2750 pounds, reaches travel speeds up to 5.6 mph with load and lift speeds of 79 ft/min. The totally enclosed AC motor, gears and multiple disc brakes are completely maintenance-free. Each EFXac model features an AC drive control with stepless, sensitive control of travel speed via MOSFET technology. The travel speed is determined via pedals arranged to automobile standards. When changing travel direction or releasing the pedal regenerative braking is activated and reclaimed energy is fed into the battery. The compact trucks are 70 inches wide and available with either a two-stage or three-stage mast. The maximum lift height for the two-stage mast is 236 inches and for the three-stage mast is 276 inches. Also, the trucks have a turning radius of 72.8 inches for optimum maneuverability. For more information on EFXac Swing Reach Stackers contact Jungheinrich Lift Truck Corp., 5701 Eastport Boulevard, Richmond, VA 23231, phone toll free 888-333-2644, phone 804-737-6084, fax 804-737-6131, www.jungheinrich.com.
Related