Swing Gate features 10 mm thick tempered glass panel.
Press Release Summary: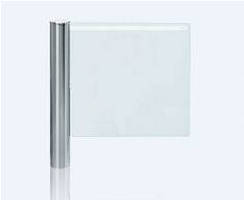 Created for indoor installations, Model WMD-06 manages pedestrian flows at entrance points of various buildings and facilities. Unit is available with standard 650 mm panel or 900 mm extended panel. Gate can be operated autonomously with remote control panel or wireless remote control device as well as from access control system. Two-way controlled, with throughput capacity of 12 persons, gate may be mechanically unlocked with mechanical release key.
---
Original Press Release:

New PERCo Swing Gate with Glass Swing Panel for Indoor Use



The WMD-06 swing gate with tempered glass swing panel is an up-market product. This automatic gate offers modern solution for access control at banks, business centers and other sites with the highest requirements for design and safety.



PERCo swing gates are created for indoor installations. Special design allows blending them into numerous locations. The product range of PERCo gates includes automatic and electromechanical models.



WMD-06 Swing Gate

The new WMD-06 electric swing gate is designed for managing pedestrian flows at entrance points of industrial facilities, banks, administrative buildings, retail outlets, railway terminals, airports, etc.



The WMD-06 swing gate features a tempered glass swing panel available in two versions: a standard panel (650 mm) or an extended panel (900 mm) for convenient access of people in wheelchairs, mothers pushing baby transport or shoppers carrying bulky goods. In emergency situations the WMD-06 with the extended swing panel can be used as an additional emergency exit. The gate can be operated autonomously with the remote control panel or wireless remote control device as well as from an access control system. There are two variants of automatic gate control – pulse control mode and potential control mode.



It can be installed together with other turnstiles and barriers produced by PERCo or it can be used as a separate security device. It is recommended to define the number of entrance swing gates necessary to secure fast and convenient passage in accordance with throughput rate. For example, it is recommended to install one gate per every 500 entrants or in accordance with peak throughput rate not exceeding 12 persons per minute. External components of the WMD-06 (except for swing panel) are made of brushed stainless steel. The swing panel is made of 10 mm thick tempered glass. The WMD-06 is a normally open gate and in case of power failure the swing panel can be rotated through an angle of ±90º.



In case of any impediment to the free rotation of the swing gate an automatic switch to overload mode is provided. The mode is used to avoid damage to electromechanical gate components due to overheating.



The WMD-06 can be installed in pairs facing each other. In this case the two security gates will be able to provide well-synchronized operation being controlled by one control signal.



The transparent glass panel of each WMD-06 is fitted with the matt tape along the top edge that helps to prevent people from bumping into the glass.



So the new security swing gate WMD-06 is two-way controlled, with throughput capacity of 12 persons and it can be mechanically unlocked with a mechanical release key. If customers need to know how swing gates work they can find the complete operational process description in the manuals included in each product package. PERCo clients will also receive a complete delivery set, enough to start using the WMD-06 including a security gate post with built-in electronics, swing panel and remote control panel.



Find more information at www.perco.com



Vladislav Dianov

PERCo web-marketing manager

+7 (812) 292-36-07 (ext. 249)

dianov@perco.com 

www.perco.com



More from Laboratory and Research Supplies and Equipment