Swing Clamps suit repetitive workholding applications.
Press Release Summary: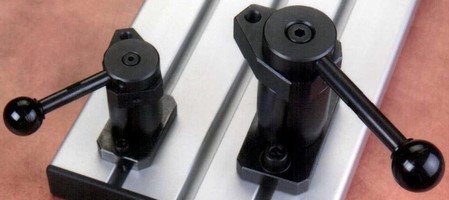 Offered in standard force line and heavy-duty models, Imao® One-Touch Swing Clamp series is manufactured from heat-treated alloy steel with black oxide finish. Standard range includes 2 sizes with 170 or 260 lb clamping force, 32 or 45 mm min clamping height, and 25 or 32 mm arm length. For heavy-duty models, clamping force is rated to 786 or 1,348 lb, arm length is 42 or 48 mm, and variable clamping height ranges from 70-80 mm or 80-90 mm.
---
Original Press Release:
Swing Clamps with Extended Travel & Reach for Versatile Workholding
Fixtureworks (Fraser, MI), a leading supplier of workholding and fixturing technologies, has bolstered its array of Imao® clamps, modular fixturing and set-up accessories by offering the convenient yet powerful Imao One-Touch Swing Clamp series. With both a standard force line and heavy duty models, and the fact that Imao swing clamps provide an expansive range of arm travel and length of arm options, make these clamp configurations a versatile choice for a variety of clamping, fixturing and workholding applications.. .and especially useful for highly repetitive clamping jobs. The swing clamps offer ease of operation-the rotation of an ergonomic handle simultaneously swings the clamp arm out and over the workpiece and into the clamping position, then a final pressure on the arm draws the arm down and applies direct downward force on the part. Reversing the rotation of the handle raises and swings the clamp arm clear of the part from 65° for the standard sized models to a full 90° for the heavy-duty version, allowing for easy removal and placement of workpieces. The standard range of Imao Swing Clamps consists of two size configurations offering 170 lbs. of clamping force, a 32mm minimum clamping height, and a 25mm arm length; the larger version provides 260 lbs. of holding power, 45mm clamp height, and 32mm arm length. Each size is available with either clockwise or counterclockwise operational direction and the clamp arm is complete with a tapped hole at the clamping end for insertion of replaceable tips that further extend the clamp's working envelope. In addition, extended length, machinable clamp arm blanks, measuring 45mm and 55mm long, are available for the two standard duty clamp assemblies that allow users to create custom arm configurations for specific application needs. Versatility is further enhanced with three tapped holes; located at a 35° angle between two holes, permit the handle to be mounted in any of three positions for convenient operation. There are also two ranges of heavy-duty swing clamps: One provides up to 786 lbs. of clamping force, the larger series offers to 1,348 lbs. The clamp arm lengths are 42mm and 48mm, respectively. The heavy-duty series, with the inclusion of an adjustment knob, provides a variable clamping height range of from 70-80mm for the smaller model, and from 80-90mm for the larger selection. Operation of the heavy duty swing clamps is dual action requiring the rotation of the adjustment knob to swing the clamp arm over the workpiece and lower it into position, then rotating the handle to apply the clamp pressure. Both series of Imao Swing Clamps are manufactured from quality alloy steel that is heat treated (except handles) and have a black oxide finish. Normal mounting of the clamp assemblies to a fixture base is accomplished via four tapped holes in the bottom of the clamp riser. Besides the machinable clamp arms, Imao offers mounting plates for the standard and heavy duty series of swing clamps that allow for top side mounting. In addition to the swing clamp products, Fixtureworks also offers Imao® cam, push, pull, side, hook, and strap-style clamps along with a wide variety of locating and support accessories. Further, Fixtureworks is a leading, single-resource for a wide array of fixturing, workholding and accessory components-other representative products include Kipp® spring plungers, handles, levers, knobs and hand wheels; OK-Vise® fixturing clamps; Mitee-Bite® low-profile edge clamps; and Fairlane Products® rest pads, grippers, Swivots,® Quick Release Ball Lock Pins and bumpers.
More from Electrical Equipment & Systems