Swifter® Cooling Tower Fans Deliver More Airflow at Power Plant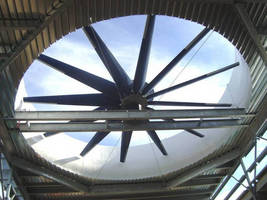 Glocon Inc. is pleased to report the performance findings at a municipal power plant installation in Minnesota. A utilities company needed to replace the fans in a 3 cell cooling tower. Initially budget allowed for the replacement of one fan, which the company did using the original OEM compatible fan. One year later, they budgeted for the replacement of fans for the remaining 2 towers. Glocon was awarded the project to supply two 22 foot fiberglass fans, based on advertised increased efficiency of the patented CTX Series fan blades developed U.S. Department of Energy's National Renewable Energy Laboratory. After installation, Glocon offered to conduct an onsite performance test to prove the efficiency.

In the words of the utility plant's production manager, "We were totally amazed at the savings. Our anticipation was to have a 5 to 7 % increase in efficiency and these blades produced 16% more air flow than the blades that we purchased one year earlier at the same motor load amperage. In addition, Glocon also gave us recommendations to alter the fan blade angle to save even more on operating costs. The Swifter CTX series fan blades will give us a return on our investment in a short amount of time."

Glocon is proud to be the supplier of Swifter® CTX Series industrial fans for a variety of applications, ranging from cooling towers, air-cooled heat exchangers to condensers. Glocon is also the manufacturer of Swifter® SW/SE Series axial impellers which can be used in industrial ventilation applications. The company's newest innovation is the Swifter® HVLS Hybrid Industrial Ceiling Fan, which can be used in warehouses, commercial buildings, aircraft hangars, sports facilities or any large space with high ceilings. All of the Swifter® brand industrial fans use patented high efficiency fiberglass/composite fan blades. For more information about Swifter® CTX Cooling Tower Fan installations, or to learn about any of the industrial fans we offer, please visit www.swifterfans.com or call 973-463-7300.


More from Architectural & Civil Engineering Products