Swift Glass to Showcase Chemically Strengthened Glass Parts at Display Week 2016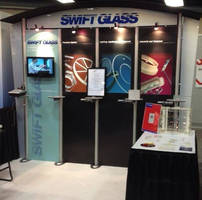 Swift Glass, worldwide leader in the manufacturing of quality glass parts, is set to exhibit at the Society for Information Display's annual Display Week Exhibition from May 24 to 26, 2016.



The exhibition, held in San Francisco, Calif., brings together companies from around the world to discuss and showcase the latest developments in display technology.



This year's Display Week will feature nearly 250 exhibitors in display electronics, components, systems, services, manufacturing equipment and other industries. Attendees can expect new innovations to emerge in electronic information display applications — now a $100 billion/year industry.



Swift Glass will join 3M, PPG Industries, Mitsubishi Electric, and other major players in display electronics to showcase our flat glass components and glass capabilities for displays. These include:





Chemical strengthening for dimensions up to 30" x 40"



CNC machining



Heat tempering



Edge grinding and polishing



Double-sided lapping and polishing



Digital screen printing



Laser etching



Visit Swift Glass at Booth 206 to see large, chemically strengthened glass parts used for display purposes, and talk to members of the team about your next project.



If you can't attend Display Week, Swift Glass offers an Optical and Display glass webpage with more information about their capabilities. Visit the page at http://www.swiftglass.com/optical-display-glass/



About Swift Glass



Swift Glass is a privately owned worldwide leader in the manufacturing of quality fabricated glass parts. An ISO 9001:2008-certified and ITAR-registered company, Swift Glass offers assistance in material selection, craftsmanship, design and custom solutions while possessing the utmost devotion to precision and quality. Glass manufacturing capabilities include chemical strengthening, thermal tempering, polishing, edge grinding, drilling and more. Swift Glass works with leading glass manufacturers such as Corning, Schott and GE and stocks a wide range of materials that allow us to respond quickly to customer needs.



Related