SWEP 2-Stage Units Chosen for Wembley Park Development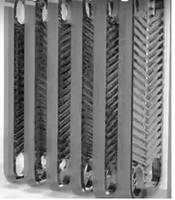 DOWNERS GROVE, Ill., Sept. 14, 2018 /PRNewswire/ -- SWEP, part of Dover (NYSE: DOV), is proud to announce that Ramboll, the consulting engineers for Quintain's prestigious Wembley Park development, have specified SWEP 2-stage brazed plate heat exchanger (BPHE) units to drive the single heat network that will serve the entire site.
The Wembley Park development includes residential, commercial and office buildings as well as the iconic 12,500 seat capacity Wembley Arena. When complete, the site will provide the UK's largest build-to-rent development of over 7,000 units.
Ramboll has designed the district heating system for the development, which is a modern low temperature hot water network (LTHW). The system is based from a single energy center which feeds twenty separate sub-station buildings, linked through a district heating network of approximately 3.5km in length.
The SWEP 2-stage BPHE units that drive the system combine a pre-heater and an after-heater, thereby allowing returned water from the radiator circuit heat exchanger to be used to preheat water intended for domestic use. SWEP is delivering the units in collaboration with Frese UK and Fortes Import BV, which is building the components that house the 2-stage BPHEs.
Christer Frennfelt, SWEP Business Development Manager District Energy said, "We are delighted to have won this business for the Wembley Park development. It is a major landmark for SWEP for delivering BPHE through substations and specially for 2-stage, which will deliver significant energy and cost savings to our customers."
About SWEP:
SWEP is the world's leading supplier of compact brazed plate heat exchangers (BPHEs). These products are used where heat needs to be transferred efficiently in air conditioning, refrigeration, heating, and industrial applications. SWEP is close to its customers, with representation in more than 50 countries and its own dedicated sales force in more than 20 countries. Highly efficient production units in Sweden, the USA, Malaysia, Slovakia and China enable SWEP to serve customers all over the world. SWEP is part of the global Dover Corporation, which is a multi-billion-dollar, NYSE-traded, diversified manufacturer of a wide range of proprietary products and components for industrial and commercial use. 
About Dover: 
Dover is a diversified global manufacturer with annual revenue of approximately $7 billion. We deliver innovative equipment and components, specialty systems, consumable supplies, software and digital solutions, and support services through three operating segments: Engineered Systems, Fluids and Refrigeration & Food Equipment. Dover combines global scale with operational agility to lead the markets we serve. Recognized for our entrepreneurial approach for over 60 years, our team of 26,000 employees takes an ownership mindset, collaborating with customers to redefine what's possible. Headquartered in Downers Grove, Illinois, Dover trades on the New York Stock Exchange under "DOV." Additional information is available at dovercorporation.com.
CONTACT: SWEP Contact: Christer Frennfelt, Business Development Manager, Consultant & Utility, +46 768 90 81 15, christer.frennfelt@swep.net; Dover Media Contact: Adrian Sakowicz, VP, Communications, (630) 743-5039, asakowicz@dovercorp.com; Dover Investor Relations Contact: Paul Goldberg, VP, Investor Relations, (630) 743-5180, peg@dovercorp.com
More from Packaging Products & Equipment