Swedish Mining Industry Benefits from Rockwell Automation Collaboration with EIAB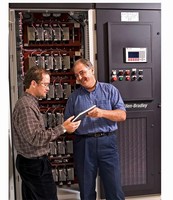 Zinc and iron ore mining operations use medium voltage drive turn-key solutions in two contracts with a combined value over four million Euros

Cambridge, Feb. 26, 2007 - Rockwell Automation today announced two contracts in the Swedish mining industry in association with EI and Industriteknik Svenska AB (EIAB). The contracts to supply turn-key solutions for medium voltage drives total more than 4 million Euros and emphasize the companies' combined capabilities and value to the mining industry.

In the first contract, Rockwell Automation and EIAB will supply, install and commission 20 Allen-Bradley PowerFlex 7000 medium voltage 6600V AC drives using transformerless Direct-to-Drive technology at the new Pelletizing & Concentrating Plant at LKAB in Kiruna, Sweden. The majority of the variable frequency drives (250kW to 3850kW) will control fans and pumps at LKAB, while one 5500kW drive uses synchronous transfer capabilities to start and/or control four ore grinding mills.

LKAB is an international high-tech minerals group, one of the world's leading producers of upgraded iron ore products for the steel industry and a growing supplier of industrial minerals products to other sectors. LKAB has more than 3,500 employees and has iron ore mines, processing plants and ore harbors in northern Sweden and Norway.

The second contract is to upgrade the Ball Milling machinery at Zinkgruvan Mining, a member of the Lundin Mining Group and the largest underground zinc mine in Sweden. The company expects to be able to increase milling productivity by 20 percent and improve quality of output by controlling the speed of the Ball Mill with the installation of two Allen-Bradley PowerFlex 7000 6600V 1225kW drives with Direct-to-Drive technology, and a load sharing cabinet controlled by a ControlLogix programmable logic controller.
Commenting on the contract wins, Rockwell Automation Swedish country manager Kristian Rostrom said, "These mining industry wins demonstrate the value that EIAB and Rockwell Automation can bring to the Scandinavian mining industry. EIAB's industry solution experience combined with world class drives from Rockwell Automation can contribute to continued productivity and quality gains for customers."

Rockwell Automation, Inc. (NYSE: ROK), is a leading global provider of industrial automation control and information solutions that help manufacturers achieve a competitive advantage in their businesses. The company brings together leading global brands in industrial automation which include Allen-Bradley controls and services and Rockwell Software factory management software. Headquartered in Milwaukee, Wis., the company employs about 19,000 people serving customers in more than 80 countries.
For more information, visit our Web site at www.rockwellautomation.com.

Allen-Bradley, ControlLogix, Direct-to-Drive, PowerFlex and Rockwell Software are trademarks of Rockwell Automation Inc.


More from Controls & Controllers