SUV/Truck Tires provide smooth ride in extreme weather.
Press Release Summary: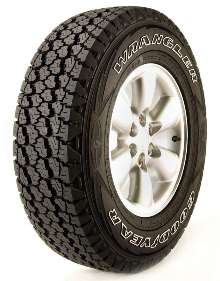 Suited for trucks and SUVs, Wrangler® tires featuring SilentArmor Technology(TM) handle off-road conditions while providing smooth, quiet ride for street driving. Tires have steel belts and KEVLAR® layer in addition to Durawall(TM) rubber compound for puncture- as well as cut-resistance. They also feature Rim Guard design that protects against accidental curb damage. Offered in rim diameters from 15-17 in., tires are suited for wet, muddy, and severe snow use.
---
Original Press Release:

Goodyear Says Tough Tires Rule ... On or Off the Trail


DALLAS, Jan. 27, 2005 - With a major product satisfaction award fresh on the trophy mantle, The Goodyear Tire & Rubber Company announces an addition to its line of Wrangler® premium tires for consumers who desire on/off-road performance for their trucks and SUVs.

The on/off-road capability of the Goodyear Wrangler featuring SilentArmor Technology(TM) is sure to merit a "two thumbs-up" rating from truck owners who are looking for hard-working performance. The new tire becomes available to consumers in May, in 24 sizes with rim diameters ranging from 15-17 inches.

Goodyear officials announced the new Wrangler today, adding it to the popular brand line that has been a leader in the light-truck/SUV segment for nearly 30 years. In the 2004 J.D. Power and Associates study, Goodyear tires were ranked "Highest in Original Equipment Tire Customer Satisfaction for Pickup/Full-Size Van Vehicles."

"Although most of their driving is on the road, truck owners want the capability to drive on any terrain," said Todd Hershberger, Goodyear marketing manager for light-truck tires. "They expect their tires to emulate the performance of their trucks. They have to be tough to get the job done, and they also have to be comfortable and quiet like a passenger car."

The Wrangler featuring SilentArmor Technology is a tire designed with the on/off-road pickup truck driver in mind. It can handle tough off-road conditions, while providing a smooth, quiet ride when driving around town, said Hershberger.

Rugged toughness is a focal point of this product. Features of the tire include:

o Two high-tensile steel belts and a layer made with DuPont KEVLAR®.
o Goodyear's exclusive Durawall(TM) rubber compound, which reinforces the sidewall to help resist punctures and cuts.
o Rim Guard, a design that further protects expensive wheels from accidental curb damage.

The Durawall feature is a technology borrowed from Goodyear's tire for severe off-road use, the Wrangler MT/R. The Durawall compound in the sidewall helps with puncture resistance in an area that takes a beating when off the road or at a work site.
The layer made with KEVLAR also soaks up road noise for a smooth and quiet ride.

The Wrangler Featuring SilentArmor Technology also carries a consumer-friendly after-sale package to extend the feeling of total confidence in the product.

The "Wrangler Utility Package" offers:

o 50,000-mile treadlife limited warranty
o 30-day no obligation trial period
o Nationwide warranty service
o Online product registration
o Tire rotation reminder service
o Off-road assistance

The new Wrangler also contains unique traction ridges designed between the tread of the tire. These aggressive ridges provide superb traction in wet or muddy conditions. The tire is certified for "severe snow" usage with the industry's mountain-snowflake symbol, able to take on snowy conditions, as well. The tread compound is a new Goodyear silica blend that maximizes wet traction without sacrificing treadwear.

"Truck owners want a tire that can get them through the tough terrain they sometimes face, yet still be mannerly during highway driving. This new Wrangler is a unique combination of toughness and low-noise. We call it the 'Strong, Silent Type,'" said Hershberger.

The SilentArmor Technology icon, an iron shield with the Goodyear wingfoot design inside, appears on the tire's sidewall to call out the benefit of the breakthrough technology specifically added to this tire.

Fitting the most popular truck sizes on the road, this vehicle segment consists of some of the hottest-selling trucks today, such as Chevrolet Silverado and Avalanche, Dodge Ram, Ford F-150, Toyota Tundra and others.

For more information about Goodyear tires with SilentArmor Technology, visit www.goodyearwrangler.com. For other details about Goodyear, or to find the nearest Goodyear retailer, go to www.goodyeartires.com.

More from Software