SUV/Crossover/Light Truck Tire grips in all weather conditions.
Press Release Summary: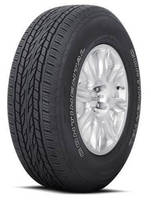 CrossContact LX20 with EcoPlus Technology is all-season tire that promotes safety and fuel efficiency. Traction Grooves, biting edges in tire grooves, shorted stopping distance on wet ground as well as provide traction and grip on snow. Also included, Smooth Response Technology contributes handling efficiency and road noise reduction. EcoPlus Technology employs temperature-activated functional polymers and grip-enhancing additive that help reduce wear and increase fuel efficiency.
---
Original Press Release:

Continental Introduces Fuel-Saving, Premium SUV, Crossover and Light Truck Tire - CrossContact LX20



-Continental's debuts the CrossContact LX20 with EcoPlus Technology

-New tire is fuel-efficient, reduces CO2 emissions and stops 34 feet shorter than the leading competitor in independent wet braking tests

FORT MILL, S.C. -- Continental Tire introduces its most innovative SUV, crossover and light truck tire to date, the dynamic CrossContact LX20 with EcoPlus Technology. This premium all-season tire was developed to deliver improved fuel economy and treadwear, reduce harmful CO2 emissions and surpass the competition - which it does, stopping 34 feet shorter than the leading competitor in independent wet braking tests.*

The CrossContact LX20 with EcoPlus Technology is a top performer in rainy and snowy conditions. Designed to deliver excellent wet traction and equipped with Traction Grooves, which are biting edges in the tire grooves, drivers experience shorter stopping distances on wet ground and increased traction and grip on snow.

The hallmark of the CrossContact LX20 with EcoPlus Technology is delivering greater fuel economy compared to the leading competition. With the advance EcoPlus Technology, the CrossContact LX20 can save the average driver up to 2,500 miles of fuel over the life of the tire. Smooth Response Technology offers a smooth and comfortable ride, crisp handling and drastically reduced road noise, the CrossContact LX20 with EcoPlus Technology is leading the way in road comfort, quality and savings.

"We're fully committed to building advanced tires and improving the environment - reducing CO2 emissions, reducing our waste and researching new and innovative ways to advance tire technology," said Bill Caldwell, vice president of sales and marketing, Continental Tire. "The fact that our customers ultimately keep more money in their wallets is frosting on the cake. We've created a cutting-edge tire that helps to keep our world greener, that saves fuel and money and that is safer than the competition. We're proud of this tire and we're happy to be able to offer our customers the features they demand in one tire."

EcoPlus Technology consists of two main components, Tg-F polymers and +Silane. The Tg-F polymers are temperature-activated functional polymers that increase compound bonding, improving the wear and fuel efficiency of the tire. The second component of the EcoPlus Technology, +Silane, is an additive that works to enhance the tire's grip on slippery roads and reduce stopping distances. These technologies work together to enhance the driving experience for a long tire life when conditions are normal, and toprovide excellent wet braking on slippery roads.

The CrossContact LX20 with EcoPlus Technology is backed by some of the strongest warranty programs and service contracts in the industry, including a 70,000 mile or 72 month limited warranty and 12-month free replacement. The CrossContact LX20 comes in a wide range of sizes from 16" to 20" wheel diameters with a UTQG rating of 740 AB for S and T speed, and 680 AA for H speed.

*Based on independent braking test. Continental CrossContact(TM) LX20 265/70R17 compared to Pirelli Scorpion(TM) STR A P265/70R17 113H.

About Continental Tire

With sales of EUR26 billion in 2010, Continental is among the leading automotive suppliers worldwide. As a supplier of brake systems, systems and components for powertrains and chassis, instrumentation, infotainment solutions, vehicle electronics, tires and technical elastomers, Continental contributes to enhanced driving safety and global climate protection. Continental is also a competent partner in networked automobile communication. Continental currently employs approximately 150,000 people in 46 countries.


More from Computer Hardware & Peripherals