Sussman Electric Boilers Include a Broad Range of Applications in All Our Models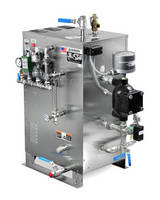 Sussman Electric boilers include a broad range of applications in all our models. HVAC, direct steam heating, hot water for process and comfort heating, humidification and air-water-oil preheating and booster heating are some of their features.

The SSB stainless steel model introduces even a broader range of application with additional features that expand Sussman's standard product of offerings. The SSB electric steam boilers all wetted metal parts are stainless steel and passivation standard per QQ-P-35 standard. Introducing and upgrade worth taking note of, our model SSB is now made available with an all new stainless steel jacket.

Now available as standard equipment the stainless jacket provides product enhancement while the increased diameter of piping manifold to 3/4 can facilitate easier service access. With a clean steam up to 180kW/550PPH, 100 PSIG, the SSB boiler model also features a 316/316L SS pressure vessel, all wetted metal stainless parts and provides a second low water cut off.

Application for this and other models include clean steam for pharmaceuticals, cosmetics, sterilization, autoclaves, food processes and clean room. Worldwide technical capabilities facilitate your export requirements. Manufactured to ASME boiler and pressure vessel codes, UL listed and CSA certified. Sussman remains the leader in the manufacture of industrial steam, electric boilers for over 75 years. See our speedy request for quote form for fast service. Your specs and application requirements will be handled by our technical team for knowledgeable customer service. Visit us at www.sussmanboilers.com or call our toll free at 800-238-3535.

Related