Contract Manufacturing Services
Surmotech Goes 3D - X-Ray Inspection Capability Enhanced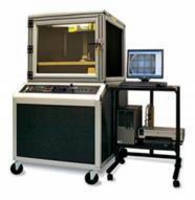 At Surmotech we are committed to providing the most up-to-date equipment for all your electronic assembly needs.

We have recently made a new addition to our inspection capabilities with the purchase of a Glenbrook JewelBox-70T. The JewelBox-70T delivers superior image quality with excellent resolution and sensitivity for laboratory and failure analysis applications. The system's 10-micron x-ray source provides magnification from 7X to 2000X, with resolution of 100 line pairs per millimeter.

The system's five-axis positioner allows manipulation of boards in the X, Y, and Z axes as well as tilt and rotation. The system is also equipped with Glenbrook's GTI-5000 Image Processing Workstation, which includes powerful tools to evaluate electronic components, including BGAs, Micro-BGAs, QFNs and flip chips.

About Surmotech

Surmotech is a full service EMS (Electronic Manufacturing Service) company which provides quality products to the Medical, Military, Computing and Industrial sectors nationwide. Further information on Surmotech can be found at www.surmotech.com.

More from Software