Surge Suppressors provide data and power source protection.
Press Release Summary: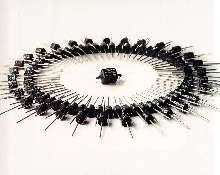 GDT Gas Plasma OVP Devices handle current surges up to 10,000 A while suppressing overvoltage transients. Capacitance is 1-2 pF and insulation resistance is greater than 1 Gohm. Units present no signal loss up to 1.8 GHz, making them suitable for broadband applications. Hybrid units combine high surge capability with low clamping voltage of silicon avalanche diodes. They handle currents up to 5 KA 8/20 µs with insulation resistance and capacitance of <100 pF at 1 MHz.
---
Original Press Release:

Littelfuse Introduces Next Generation, High Capacity GDT Surge Suppressor Product Line


DES PLAINES, Illinois, March 12, 2003 - Littelfuse, Inc. (NASDAQ/NMS:LFUS) has introduced a proprietary gas plasma family of devices (Gas Discharge Tube or GDT) designed for use in a wide range of power and data protection applications. Littelfuse's new line of GDTs are packaged in small foot print leaded and surface mount configurations, making them ideal for use in broadband, MDF (Main Distribution Frame), Central Office and Access applications. (Applications include both data and power source protection, typically associated with high frequency circuits operating below 100V.)

Littelfuse Gas Plasma OVP devices (GDTs) have a much faster response time to transient overvoltage events than traditional offerings. This fast response time translates into a much lower breakdown voltage and a reduced risk of equipment damage. These new devices have the ability to handle very high current surges - up to 10,000A - while effectively suppressing overvoltage transients. Their low capacitance (typically 1-2pF), high insulation resistance (greater than 1Gohm) and low leakage ensure that the part has virtually no effect on the protected system during normal (non-surge) operating conditions. The GDTs also present no signal loss up to 1.8GHz, making them ideal for broadband applications. The Littelfuse Gas Plasma line provides a means for designers to incorporate this protection approach into secondary applications that expose data lines to any high-level overvoltage threat. Available in both two and three terminal configurations, the line also offers a "fail-safe" which limits heat caused by a power cross event.

The hybrid Gas Plasma device series combines the GDT's high surge capability with the low clamping voltage of silicon avalanche diodes into a single package. This new configuration provides improved overvoltage suppression response and lower breakdown voltages over traditional designs. The product is ideal for protection of more sensitive electronic equipment. It offers extremely fast response, with no appreciable dv/dt switching delays, a high current handling capability (up to 5KA 8/20µs defined by IEC 1000-4-5), high insulation resistance and low capacitance (<100pF@1MHz). It is pin for pin compatible with most G.D.T. connection systems. Additional electrical parameters and performance characteristics are available via individual datasheets at www.littelfuse.com. Customers can obtain more information or receive samples by contacting a Littelfuse application engineer via phone at (800) 999-9445 or (847) 824-1188 and fax at (847) 391-0459.

Littelfuse is a global company offering the broadest line of circuit protection products in the industry. In addition to its Des Plaines, Illinois, world headquarters, Littelfuse has manufacturing facilities in England, Ireland, Switzerland, Mexico, Korea, China and the Philippines, as well as in Centralia, Des Plaines and Arcola, Illinois. It also has sales, engineering or distribution facilities in the Netherlands, Singapore, Hong Kong, Taiwan, Japan, and Brazil. For more information, please visit Littelfuse's Web site at www.littelfuse.com.

More from Software