Surge Protectors are designed for equipment connected over CAT5/6.
Press Release Summary: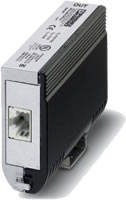 Surge Protectors are available in DT-LAN-CAT6 and DT-TELE-SHDSL models. Lightning Surge Protectors are used for protecting equipment connected over SHDSL Telco interfaces. DT-LAN-CAT6 protects wireless and PoE equipment's data transmission without affecting up to 10 Gbps signal speed. DT-TELE-SHDSL is designed for SHDSL equipment.
---
Original Press Release:
Protect Your Network from Outages Caused by Surge Voltages
Perle Systems, a global provider of device networking hardware, today announced the launch of Surge Protectors for equipment connected over CAT5/6 or SHDSL Telco interfaces.
Surge voltage can wreak havoc on network uptime. Whether it is caused by lightning strikes, switching electromagnetic pulse (SEMP) or electrostatic discharges (ESD), it can be the bane of any Network Administrator. Accurate information about the cost of surge damage is unclear. However, data from insurance companies name lightning strikes as the single biggest cause of equipment failure in industrial facilities, commercial buildings and homes.
"High surge currents can cause largescale equipment failures and data loss," explains John Feeney, Chief Operating Officer at Perle Systems. "This failure is often not covered by insurance and can quickly become a heavy financial burden - especially in comparison to the cost of installing a Surge Protection Device (SPD).
The DT-LAN-CAT6 Data Line SPD protects highspeed data transmission of expensive wired, wireless and PoE equipment without affecting the signal at network speeds of up to 10 Gbps.
The DT-TELE-SHDSL Surge Protector was designed to meet the special requirements of SHDSL data transmission for maximum data security with minimum signal attenuation.
Learn more about Surge Protectors on perle.com
Contact:
Julie McDaniel
VP Marketing
Perle Systems
830 Fesslers Parkway, Suite 108
Nashville, TN 37210
Phone: 1-800-46703753
Url: https://www.perle.com/products/surge-protectors/index.shtml
More from Machinery & Machining Tools