Surge Protector permits safe use of universal battery chargers.
Press Release Summary: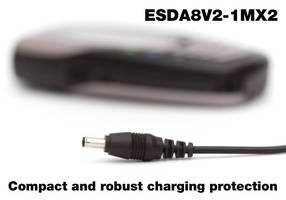 Supporting objectives to reduce number of battery chargers discarded with portable devices, ESDA8V-1MX2 protects handsets against performance uncertainties of proposed universal chargers. Measuring 1.0 x 1.45 mm with 0.55 mm profile, device absorbs mains-borne surges containing up to 500 W peak pulse energy and has low leakage current.
---
Original Press Release:

STMicroelectronics Opens Way for Environmentally Responsible Battery Chargers by Enhancing Internal Protection for Handsets



ESDA8V-1MX2 with 30% higher surge protection in 55% smaller outline protects handsets against performance uncertainties of proposed universal chargers

Geneva, January 30, 2009 - Supporting objectives to reduce the number of battery chargers discarded with portable devices such as cellphone handsets, GPS receivers, and personal media players, STMicroelectronics (NYSE: STM), a world leader in power ICs, has introduced improved smaller-dimension circuit-protection devices to enable safer use of universal chargers.

With 1 billion cellphone handsets, or more, expected to be shipped in 2010, initiatives such as the Chinese government's requirement for mobile devices to provide a USB port for charging may reduce the environmental burden of many millions of battery chargers. Dedicated chargers typically become useless when the accompanying portable devices reach end of life. At best they may be sent for recycling, but most often they may be disposed of incorrectly or simply kept in a drawer performing no useful function. In any case, demand for a new charger with every new portable device effectively increases the environmental impact of the global consumer-electronics industry.

Pressure to use universal chargers aims to reduce this burden, but designers of portable devices must improve internal protection against the risks presented by chargers of unknown quality. ST's new ESDA8V2-1MX2 absorbs mains-borne surges containing up to 500 Watts peak pulse energy, a level of protection which is 30% higher than the current most popular surge protector. At the same time, the ESDA8V2-1MX2 has 55% smaller footprint, measuring just 1.0 x 1.45mm, thereby realizing space savings for designers to implement extra functions or to further miniaturize the end product. The protection device also has a thinner profile of 0.55mm, compared to 0.7mm or 1.0mm for typical alternative devices. Another benefit is a 50% reduction in leakage current, which reduces drain on the battery for improved performance and longer recharge intervals.

The ESDA8V2-1MX2 is available immediately in sample quantities or for full production, priced at $0.11 for 10,000 pieces.

About STMicroelectronics

STMicroelectronics is a global leader in developing and delivering semiconductor solutions across the spectrum of microelectronics applications. An unrivalled combination of silicon and system expertise, manufacturing strength, Intellectual Property (IP) portfolio and strategic partners positions the Company at the forefront of System-on-Chip (SoC) technology and its products play a key role in enabling today's convergence markets. The Company's shares are traded on the New York Stock Exchange, on Euronext Paris and on the Milan Stock Exchange. In 2008, the Company's net revenues were $9.84 billion. Further information on ST can be found at www.st.com.

STMicroelectronics, Inc.

Lexington Corporate Center

10 Maguire Road

Bldg. 1, 3rd Floor

Lexington, MA 02421

(781) 861 2650

www.st.com

More from Machinery & Machining Tools