Surge Protector handles severe lightning environments.
Press Release Summary: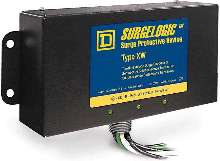 Withstanding surge currents up to 100 kA, SURGELOGIC(TM) XW Surge Protection Device protects single- and three-phase power cabinets, control cabinets, panelboards, and load centers from transients and prevents loss of data. Lightning Temp® thermal fuse prevents thermal runaway conditions if MOVs are damaged during transient event. LED status indicators, audible alarm, and dry contacts indicate device failure. Unit meets UL and CSA requirements.
---
Original Press Release:

New Surgelogic(TM) XW SPD Provides Protection Up To 100,000 Amps


SQUARE D® SPD guards against transients from power lines and power systems

PALATINE, Ill. - Oct. 24, 2002 - The new SQUARE D® SURGELOGIC(TM) XW Surge Protection Device (SPD) assures reliable protection for single- and three-phase power systems, saving downtime and repair costs that can result from various causes of transients. It provides the highest level of protection for severe lightning environments. Capable of withstanding surge currents up to 100kA, the XW is designed to meet the needs of OEMs for many applications, including power cabinets, control cabinets, panelboards and load centers.

The SURGELOGIC XW SPD, is the latest of several new SPDs from SQUARE D/Schneider Electric. These devices provide critical protection for sensitive electronics now embedded in almost every type of equipment. They reduce the wear and damage caused by common unseen transient events, which shorten equipment life. They also eliminate the threat of damage from the most common surge and transient events, reducing unexpected downtime and preventing the loss of data. Compact designs and mounting flexibility meet essential needs for small footprints and creating economical use of space.

Easy nipple mount connection of the SURGELOGIC XW SPD allows for flexible mounting near the circuit breaker, reducing lead lengths and improving protection. LED status indicators provide easy visual indication of the device's operational status. The XW also features an audible alarm and dry contacts to indicate device failure.

An exclusive Lightning Temp® thermal fuse protects against extreme surge currents and prevents dangerous thermal runaway conditions if MOVs are damaged during a transient event. Sine Wave Trackerä circuitry suppresses transients close to the sine wave, providing advanced tight clamping and noise filtration capabilities. Additionally, the XW is parallel-mounted to avoid operational downtime during maintenance when connected through a breaker. The XW meets international standards such as UL and CSA requirements.

For more information about the SURGELOGIC XW SPD or the complete line of surge protection products from Square D/Schneider Electric, dial 1-800-392-8781, visit www.SquareD.com or send e-mail inquiries to help@SquareDinfo.com.

SQUARE D is a market-leading brand of electrical distribution, industrial control and automation products, systems and services, and is the flagship brand in the United States for the North American Division of Schneider Electric. SQUARE D products are found in all types of residential, commercial and industrial construction, in a wide range of manufacturing and processing facilities, and in or on the products of other manufacturers. Schneider Electric, headquartered in Paris, France, is a global electrical industry leader with 2001 sales of approximately $8.7 billion.

Please send all reader inquiries to:

Banta Packaging & Fulfillment
4818 West Converters Drive
Appleton, WI 54913
Attention: Joan Kilgas
800-392-8781
E-mail: SquareDlim@banta.com


More from Controls & Controllers