Surge Protection Module suits traffic controller appllications.
Press Release Summary: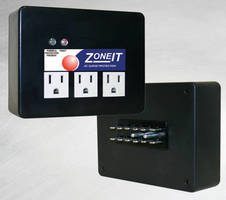 Designed to fit existing cabinet space and wiring configurations, ZoneIT provides pluggable module that lets users upgrade surge protection for new and existing traffic controllers. It employs 3-stage hybrid circuitry, delivering protection with 3 outlets. Primary stage offers 50 kA protection to entire cabinet, while secondary stage includes RFI filtering and ensures electronics are fully protected. Additional features include thermal overload, over-current, and short circuit protections.
---
Original Press Release:

ZoneIT Provides High Performance Surge Protection for Any Traffic Controller Appllication



HOUSTON - Specifically designed for traffic controller applications, MTL's ZoneIT provides a pluggable module designed to fit existing cabinet space and wiring configurations. With ZoneIT users can easily upgrade surge protection for both new and existing traffic controllers.

Using 3-stage hybrid circuitry, ZoneIT delivers superior protection with three convenient outlets. The primary stage offers 50kA protection to the entire cabinet while the secondary stage includes RFI filtering and ensures that vulnerable electronics are fully protected. It suppresses surges up to 50 percent lower than any competitive surge protector available and provides:

High surge current capacity

RFI/EMI damping circuitry

Thermal overload protection

High capacity short circuit fusing

LEDs for status indication

Over-current protection

ZoneIT is ideal for the traffic engineering industry with a compact design that easily fits into existing cabinet configurations. Its advanced features are backed by a 10 year warranty

For more information, visit www.mtl-inst.com or email csinfo@mtl-inst.com.

About MTL
MTL Instruments, a business unit of Cooper Crouse-Hinds, is a world leader in the development and supply of electronic instrumentation and protection equipment for the process control and telecommunications industries. Many of the world's most critical processes are monitored, controlled or protected by MTL equipment and the Group is distinguished by the quality and reliability of its products, its global network of sales-and-support centres and its acknowledged position as a thought-leader in this high technology marketplace. With 20 dedicated sales centres in 13 countries and a further 131 MTL representatives in 69 countries, MTL's expertise in Intrinsic Safety, Industrial Networks, Surge Protection and Operator Displays/HMI is unsurpassed.

About Cooper Crouse-Hinds
Headquartered in Syracuse, N.Y., Cooper Crouse-Hinds is a subsidiary of Cooper Industries plc (NYSE: CBE) that integrates a comprehensive line of electrical and instrumentation products with expert support, industry insights and local availability, engineering safety and productivity in the most demanding industrial and commercial environments worldwide. Cooper Crouse-Hinds manufactures over 100,000 products, including conduit and cable fittings; enclosures; plugs and receptacles; industrial lighting fixtures; signals and alarms; controls and electrical apparatus; commercial outlet boxes and hubs; and electronic components and protection equipment for process control branded MTL Instruments Group. Cooper Crouse-Hinds products are sold worldwide and meet all local and international code requirements. They are used in general construction or in harsh and hazardous environments across the globe, performing to the highest standard of safety and reliability. For more information, visit www.crouse-hinds.com.

About Cooper Industries
Cooper Industries plc (NYSE: CBE) is a global electrical products manufacturer with 2011 revenues of $5.4 billion. Founded in 1833 Cooper's sustained success is attributable to a constant focus on innovation and evolving business practices, while maintaining the highest ethical standards and meeting customer needs. The Company has seven operating divisions with leading market positions and world-class products and brands, including Bussmann electrical and electronic fuses; Crouse-Hinds and CEAG explosion-proof electrical equipment; Halo and Metalux lighting fixtures; and Kyle and McGraw-Edison power systems products. With this broad range of products, Cooper is uniquely positioned for several long-term growth trends including the global infrastructure build-out, the need to improve the reliability and productivity of the electric grid, the demand for higher energy-efficient products and the need for improved electrical safety. In 2011 fifty-nine percent of total sales were to customers in the industrial and utility end-markets and forty percent of total sales were to customers outside the United States. Cooper has manufacturing facilities in 24 countries as of 2011. For more information, visit the website at www.cooperindustries.com.

More from Software