Surge Protection Diode Arrays have minimal space requirement.
Press Release Summary: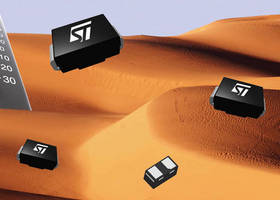 Designed to help reduce size of surge protectors for electronic equipment, SMxJ and SMxT Transil(TM) series provide specified energy absorption capability up to max operating temperature. There are 6 series in range offering surge energy from 100-1,500 W (10/1,000 µsec pulse). Surge capability at max junction temperature ESD protection meets IEC 61000-4-2 and MIL-STD-883G Specified with 8/20 µsec surge to meet IEC 61000-4-5 for electrical over-stress Leakage current specified at 85°C.
---
Original Press Release:

STMicroelectronics Shrinks Space Requirement for Mandatory Surge Protection



Next-generation Transil(TM) family absorbs high surge energy over full temperature range to save designers over specifying

Geneva - STMicroelectronics (NYSE: STM), a world leader in protection ICs, has announced an innovation that will help reduce the size and cost of surge protectors for electronic equipment by providing specified energy absorption capability up to the maximum operating temperature.

Competing devices must be derated significantly at temperatures above 25°C.

Surge protection is mandatory for most electronic equipment, to prevent power supply fluctuations or electrostatic discharges from damaging sensitive circuitry. A diode array, or Transil(TM), is commonly used to divert the surge energy to ground, away from the circuitry. Hundreds of millions of these devices are used every year, in new products of all types - from handhelds to high-power equipment. A Transil's energy absorption capability is usually specified at 25°C, reducing to zero at its maximum temperature.

Designers often use larger devices to ensure protection over the equipment's operating range.

ST's new SMxJ and SMxT series Transils are the first to remedy this by maintaining high surge protection all the way to the device's maximum junction temperature. This allows engineers to use a smaller, lower-cost device with the assurance that adequate protection will be provided. There are six different series in the range, with specified surge energy from 100W to 1500W (10/1000-microsecond pulse) thereby covering a broad spectrum of applications.

Additional benefits of the SM series include an 80% reduction in leakage current compared to previous generations, which reduces system power consumption and improves energy efficiency. ST also specifies dynamic resistance for its new devices, which allows the clamping voltage to be calculated accurately so as to improve protection and minimize risk of equipment failure.

Major features of SM series:
High surge capability at maximum junction temperature ESD protection meeting IEC 61000-4-2 and MIL-STD-883G Specified with 8/20µs surge to meet IEC 61000-4-5 for electrical over-stress Leakage current specified at 85°C, meeting telecommunication industry requirements Operating temperature range: -40°C to 150°C enabling use in consumer, telecom and industrial applications.

The SM series of Transils are in production now. For pricing, as an example, the SMX1J is priced from $0.085 for 3000 units. Alternative pricing options are available for larger quantities.

About STMicroelectronics
STMicroelectronics is a global leader serving customers across the spectrum of electronics applications with innovative semiconductor solutions. ST aims to be the undisputed leader in multimedia convergence and power applications leveraging its vast array of technologies, design expertise and combination of intellectual property portfolio, strategic partnerships and manufacturing strength. In 2009, the Company's net revenues were $8.51 billion. Further information on ST can be found at www.st.com.

Transil is a trademark of STMicroelectronics.

More from Optics & Photonics