Surface-Wave Touchscreen is offered in 32 in. size.
Press Release Summary: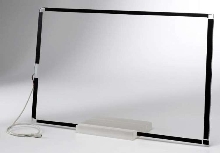 Supplied as clip-on frame, IntelliTouch 32 in. surface-wave touchscreen is composed of pure glass and has no plastic or metallic coatings. Product provides 92% light transmission and 4,095 x 4,095 touchpoint resolution. Along with point-of-information kiosk displays and interactive digital signage, applications include gaming machines, centralized monitoring in medical and industrial industries, as well as conference room and exhibition center displays.
---
Original Press Release:

Elo Touchsystems Adds New 32 Inch Surface-Wave Touchscreen To Its Family Of Large Touch Sensors


Cements Its Leadership in Breadth of Product Line Availability

Menlo Park, California (June 23, 2005) - Elo TouchSystems, the global leader in touch technology and a business unit of Tyco Electronics, announces the availability of the new 32" IntelliTouch surface-wave touchscreen, perfectly positioning the company to respond to the increasing popularity of large displays with screen sizes of 30 inches and above.

The Family of Large Touch Sensors

In 1996, the company manufactured and marketed a 33" touchscreen-the largest at that time-and in 1999 expanded its offering with 40" and 42" models using Elo's CarrollTouch infrared and IntelliTouch surface-wave touch technologies. Since then, Elo has stayed ahead of the curve in this popular market by continuing its innovative approach. The new 32" IntelliTouch touchscreen joins the recently announced 30" IntelliTouch touchscreen and is available now for applications including point-of-information (POI) kiosk displays and interactive digital signage, as in airports and retail locations; gaming machines; centralized monitoring within the medical and industrial markets; and large displays in conference rooms and exhibition centers.

A Fast-Growing Market

"The public has been purchasing bigger and bigger TVs with the advent of digital TV, and this is transitioning into the OEM environment," says Frank Lung, Elo's product manager. "The cost of larger displays is no longer prohibitive, and applications for larger displays are growing. Elo has always had a secure foothold in this market, and unlike many of our competitors, we have the most suitable technologies in CarrollTouch infrared and IntelliTouch surface wave to complement these larger screens with a touch interface."

Bigger Is the Trend

According to Lung, many Elo customers believe bigger is better when it comes to getting their message across, and Elo is receiving more and more inquiries for large plasma and flat screens of 30" and above. "We currently have customers using our 42" and 50" touchscreens to display interactive advertisements, in electronic whiteboards for corporate presentations, and in universities and TV studios," confirms Lung. "The demand is out there and Elo is well positioned to respond to it."

We Have the Right Technology

"Elo has both the technology and the experience," Lung explains. "CarrollTouch scanning infrared touch technology provides 100 percent light transmission for superb clarity and can operate in direct sunlight. As a clip-on frame, it is also lightweight and very easy to install. IntelliTouch surface-wave technology is the leading technology used in public information kiosks, and now it's also available in the 32" size. It offers the highest light transmission-92 percent-of any touchscreen overlay, as it is composed of pure glass without any plastic or metallic coatings." Lung adds, "IntelliTouch also offers 4095 by 4095 touchpoint resolution for smaller touch targets and an extremely fast touch response. With two touch options for large displays, Elo enables the customer to choose the best solution to fit a specific application."

Elo TouchSystems, global leader in touch technology, is a business unit of Tyco Electronics. Elo develops, manufactures and markets a complete line of touch products that simplify the interface between people and computers in both public access and employee-activated applications. Founded in 1971, the company is headquartered in Menlo Park, California, with manufacturing sites in the U.S., Belgium, Taiwan, and Japan. (Elo operates in Japan under the name of Touch Panel Systems.) For more information on Elo TouchSystems' products and services, call 1-800-ELO-TOUCH (800-356-8682), visit Elo's Web site at www.elotouch.com or direct electronic mail inquiries to eloinfo@elotouch.com.

CarrollTouch and IntelliTouch are trademarks of Elo TouchSystems, Inc. All other products and company names referred to herein may be trademarks or registered trademarks of their respective companies or mark holders.

More from Electrical Equipment & Systems