Surface Profiling Systems accommodate up to 4 gauging heads.
Press Release Summary: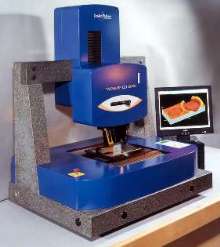 Talysurf CLI Systems provide 3D surface profiling, as well as mechanical and analytical capabilities for 2D measurements. Models CLI 2000, 1000, and 500 offer measuring envelopes of 200, 100, and 50 mm, respectively. Chromatic Length Aberration Gauge, Laser Triangulation Gauge, and Inductive Gauge units are available to meet user requirements. Talysurf CLI Systems are suited for processes that require precision control of shape, texture, or surface microstructures.
---
Original Press Release:

Taylor Hobson Introduces Talysurf CLI 3D Surface Profiling System


Innovative System Combines Versatility and Performance into a Single Instrument

WEST CHICAGO, ILLINOIS-The newly introduced Talysurf CLI 3D Profiling System from Taylor Hobson is expressly designed for high-precision 3D surface profiling but also has the mechanical and analytical capabilities for comprehensive 2D measurements. With just a single versatile Talysurf CLI instrument, end users now can monitor R&D, conduct wear analysis studies, perform routine inspection, and control manufacturing processes.

High-precision manufacturers using different processes and materials often need a variety of inspection tools. However, purchasing a different tool for every task is cost prohibitive, while outsourcing of inspection requirements is often both expensive and time consuming. The versatility of the Talysurf CLI Profiling System frees Quality Assurance Managers from the expense of contract services and eliminates the risk of simply bypassing critical inspection requirements.

For maximum versatility, Talysurf CLI systems can be fitted with up to four different gauging heads to measure every combination of material type and surface finish. Three different gauging technologies are available in ranges and resolutions to meet every user's requirements:

o Chromatic Length Aberration Gauge-a non-contact gauge offering excellent resolution characteristics and highly accurate 3D measurement
o Laser Triangulation Gauge-a non-contact gauge with wide range capable of rapid 3D measurement
o Inductive Gauge---a contact gauge that offers high resolution as well as compatibility with traditional stylus instruments.

Manufacturers increasingly are required to predict the useful life of a product as well as improve functional performance. The traditional inspection method, introduced by Taylor Hobson in 1941 on its original Talysurf instrument, relies on a single profile to detect variations in surface texture. Although this method remains effective for routine inspection, it is far less successful at evaluating or predicting functional performance. Factors that influence function require data to be collected in three dimensions. The Talysurf CLI System is suitable for every process that requires precision control of shape, texture or surface microstructures.

All Talysurf CLI Systems include motorized X-Y positioning axes, which provide 0.5 5m indexing resolution. A single modular unit controls all functions to greatly simplify installation, servicing and routine maintenance. A granite base and gantry minimize environmental effects and assure repeatable results. Three Talysurf CLI models are available:

o CLI 2000 (Measuring envelope: X, Y, Z axes=200 mm; Weight capacity: 20kg/44lbs) is the essential tool for large components or small components when used in "batch" mode. Ultra-precise table positioning steps from one part to the next while the measurement program automatically repeats for efficient, unattended operation.

o CLI 1000 (Measuring envelope: X, Y, Z axes=100mm; Weight capacity: 20kg/44lbs) offers all of the high-powered inspection tools offered on the CLI 2000 along with compact size and mid-range capacity.

o CLI 500 (Measuring envelope X, Y, Z axes=50mm; Weight capacity: 10kg/22lbs) is the space-saving choice for small component manufacturers, requiring just 500mmx310mm of tabletop space for installation.

Taylor Hobson, an acknowledged leader in ultra-precision measurement instrumentation for a variety of markets, including optics, semiconductors, hard disk drives and nanotechnology research, is a unit of AMETEK, Inc, a leading global manufacturer of electronic instruments and electric motors, with annualized sales of more than $1.2 billion.

For more information on the Talysurf CLI 3D Surface Profiling Systems, contact Taylor Hobson, 1725 Western Drive, West Chicago, IL 60185. Tel: 630-231-5900. Fax: 630-231-1377. E-mail: sales@taylorhobson.us

More from Thermal & Heating Equipment