Surface Mount Power MOSFETs feature Kelvin connections.
Press Release Summary: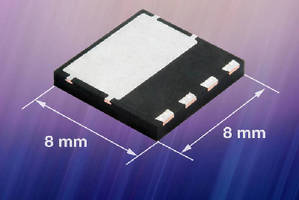 Supplied in surface mount PowerPAK® 8 x 8 package, 600 V Models SiHH26N60E, SiHH21N60E, SiHH14N60E, and SiHH11N60E feature large drain terminal for low thermal resistance and Kelvin source connection that can increase efficiency by optimizing gate drive signal. Devices offer low on-resistance down to 0.135 Ω at 10 V and ultra-low gate charge down to 31 nC. RoHS-compliant and halogen-free, MOSFETs are suited for telecom, server, computing, lighting, and industrial applications.
---
Original Press Release:

New Vishay Intertechnology 600 V E Series MOSFETs in PowerPAK® 8x8 Feature Kelvin Connections to Reduce the Effects of Gate Loop Inductance



MOSFETs Provide Space-Saving Alternative to Devices in TO-253 (D²PAK) Package for Telecom, Server, Computing, Lighting, and Industrial Applications



MALVERN, Pa. – Vishay Intertechnology, Inc. (NYSE: VSH) today announced that it is now offering its 600 V E Series power MOSFETs in the compact PowerPAK® 8x8 package. The new Vishay Siliconix SiHH26N60E, SiHH21N60E, SiHH14N60E, and SiHH11N60E all feature a large drain terminal for low thermal resistance and a Kelvin source connection that can increase efficiency by improving the gate drive signal. Their new low-profile, surface-mount PowerPAK 8x8 package is RoHS-compliant, halogen-free, and 100% lead (Pb)-free, and it provides a space-saving alternative to conventional TO-220 and TO-263 solutions.



The construction of the PowerPAK 8x8 package allows one of the source pins to be arranged as a dedicated Kelvin source connection that separates the gate drive return path from the main current-carrying source terminals. This prevents the L x di/dt voltage drop in the high-current path from reducing the gate drive voltage that is applied to the E Series MOSFETs. This leads to faster switching and more noise immunity in power supply designs for telecom, server, computing, lighting, and industrial applications.



Built on Vishay's latest energy-efficient E Series superjunction technology, the SiHH26N60E, SiHH21N60E, SiHH14N60E, and SiHH11N60E feature low on-resistance down to 0.135 Ω at 10 V, ultra-low gate charge down to 31 nC, and low gate charge times on-resistance, a key figure of merit (FOM) for MOSFETs used in power conversion applications. These values translate into extremely low conduction and switching losses to save energy in power factor correction, flyback converters, and two-switch forward converters for server and telecom power supplies, HID and fluorescent ballast lighting, consumer and computing power adaptors, motor drives, solar PV inverters, induction heating, and welding equipment



The MOSFETs are designed to withstand high energy pulses in the avalanche and commutation modes with guaranteed limits through 100 % UIS testing.



Device Specification Table:







Part number



VDS (V)



VGS (V)



ID (A) @ 25 °C



RDS(ON) (Ω) @ 10 V (max.)



Qg (nC) @ 10 V
(typ.)



CISS typ.
(pF)





SiHH26N60E



600



± 30



25



0.135



77



2815





SiHH21N60E



600



± 30



20



0.176



55



2015





SiHH14N60E



600



± 30



16



0.228



41



1416





SiHH11N60E



600



± 30



11



0.339



31



1076









Samples and production quantities of the SiHH26N60E, SiHH21N60E, SiHH14N60E, and SiHH11N60E are available now, with lead times of 16 weeks. Pricing for U.S. delivery only starts at $3.38 per piece.



Vishay Intertechnology, Inc., a Fortune 1000 Company listed on the NYSE (VSH), is one of the world's largest manufacturers of discrete semiconductors (diodes, MOSFETs, and infrared optoelectronics) and passive electronic components (resistors, inductors, and capacitors). These components are used in virtually all types of electronic devices and equipment, in the industrial, computing, automotive, consumer, telecommunications, military, aerospace, power supplies, and medical markets. Vishay's product innovations, successful acquisition strategy, and "one-stop shop" service have made it a global industry leader. Vishay can be found on the Internet at www.vishay.com.



Link to datasheet:

http://www.vishay.com/ppg?91650  (SiHH14N60E)

http://www.vishay.com/ppg?91651  (SiHH11N60E)

http://www.vishay.com/ppg?91584  (SiHH21N60E)

http://www.vishay.com/ppg?91578  (SiHH26N60E)

More from Fluid & Gas Flow Equipment