Surface Mount Power Inductor suits automotive applications.
Press Release Summary: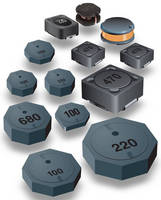 Available with non-shielded and shielded construction, AEC-Q200 qualified SMD Power Inductor Series is designed for use in such automotive applications as driver assistant devices, information/entertainment systems, and lighting. Models SDE1006A, SDR1307A, SRF1260A, SRR0735A, SRR1260A, SRR1280A, SRU1028A, SRU1038A, SRU1048A, SRU3028A, SRU5028A, SRU6025A, and SRU8028A are RoHS compliant and halogen free.
---
Original Press Release:

Bourns Announces New SMD Power Inductor Series for Use in Automotive Applications



Series includes 13 new models designed for driver assistant devices, information/entertainment systems, lighting and a broad range of automotive systems



RIVERSIDE, Calif. — Bourns, Inc., a leading manufacturer and supplier of electronic components, today introduced its SMD Power Inductor Series that includes 13 new models.  The new series features non-shielded and shielded construction and is AEC-Q200 qualified. Bourns' new SMD power inductor models are specifically designed for use in a broad range of automotive applications that include driver assistant devices, information/entertainment systems and lighting.



"Bourns' new series of SMD power inductors feature non shielded as well as shielded construction as requested for today's advanced automotive systems with AEC-Q200 testing," said Guido Zehnder, Magnetics Product Line Manager at Bourns, Inc. "These high-performance power inductors meet the needs of complex automotive applications and provide customers with solutions they can count on for reliability and longevity."



Pricing and Availability

Bourns® Models SDE1006A, SDR1307A, SRF1260A, SRR0735A, SRR1260A, SRR1280A, SRU1028A, SRU1038A, SRU1048A, SRU3028A, SRU5028A, SRU6025A and SRU8028A are available now. For additional product information, go to bourns.com/data/global/pdfs/Bourns_IC1326_Automotive_Inductor_FPB.pdf. As a pricing reference, the new SMD power inductors are priced from $0.23 to $0.39 each per 2,000-piece order. The new models are also RoHS compliant* and halogen free**.



About Bourns

Bourns, Inc. is a leading manufacturer and supplier of automotive sensors, circuit protection solutions, magnetic products, microelectronic modules, trimming and precision potentiometers, panel controls and encoders and resistive products. Headquartered in Riverside, CA, Bourns serves a broad range of markets, including telecommunications, computer, industrial, instrumentation, automotive, consumer, non-critical life support medical, audio and various other market segments. Bourns® products are manufactured according to ISO-9000 and ISO-14001 standards under Six Sigma quality programs. Bourns® automotive products are manufactured in accordance with the TS16949 standard. Additional company and product information is available at the company's website at www.bourns.com.



Bourns® and the Bourns logo are registered trademarks of Bourns, Inc. and may be used only with the permission of Bourns and proper acknowledgement. Other listed names and brands are trademarks or registered trademarks of their respective owners.



*RoHS Directive 2002/95/EC Jan. 27, 2003 including annex and RoHS Recast 2001/65/EU June 8, 2011



**Bourns follows the prevailing definition of "halogen free" in the industry. Bourns considers a product to be "halogen free" if (a) the Bromine (Br) content is 900 ppm or less; (b) the Chlorine (Cl) content is 900 ppm or less; and (c) the total Bromine (BR) and Chlorine (Cl) content is 1500 ppm or less.



Kelli Crimins

Keller Communication

949.481.6218 Tel

949.246.4410 Cell

More from Architectural & Civil Engineering Products