Surface-Mount, Portable Counter takes on-the-spot inventory.
Press Release Summary: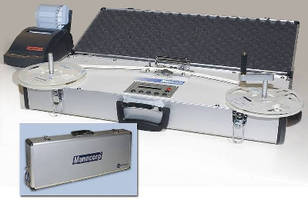 Supplied inside aluminum carrying case, MegaXP portable component counter can be used for incoming/outgoing order verification or off-premises inventory taking. It will count as fast as operator can turn hand crank, up to 10,000 cph, and employs rechargeable battery-powered sensor. In addition to RS-232 link to optional adhesive label printer, unit comes with built-in accessories compartment contains hand crank, battery charger, and shoulder strap.
---
Original Press Release:

Manncorp's SMD Counter in Aluminum Carry Case Does on-the-Spot Inventory Taking



A newly designed high-speed surface mount component counter that is smartly housed inside an aluminum carrying case is now offered by Manncorp. "Once the MegaXP is unlocked and its chrome latches snapped open, the true and exceptionally functional purpose of this equipment becomes clear," claims CEO Henry Mann. "This is a truly portable surface-mount component counter - easily carried from stock room to shipping area for incoming or outgoing order verification, or off-premises inventory taking."

Setup merely involves entering the component type and presetting the quantity. After positioning the spindle posts to vertical, the reels are inserted as the taped components are threaded through the sprocket holes. Mega XP and its rechargeable battery-powered sensor will count as fast as the operator can turn the hand crank -- up to 10,000 cph. It is internet-priced at $1,595.

Other features of this innovative product, one of five different counters offered by Manncorp, include a built-in accessories compartment containing hand crank, battery charger and shoulder strap, plus a RS-232 link to an optional adhesive label printer that records vital inventory data. For more information, access mega-xp.

Manncorp offers pick-and-place machines, stencil printers, reflow ovens, rework systems, wave solder machines, board cleaners, desiccant cabinets, nitrogen generators and more. Access manncorp.com or sales@manncorp.com.

More from Software