Surface Mount Platforms are optimized for capacity, utilization.
Press Release Summary: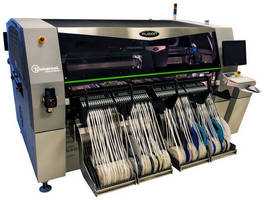 Intended for electronics manufacturers, FuzionXC2-37 and FuzionXC2-60 leverage NPI software tools featuring icon-driven interface and efficiency tools, including on-line component auto-teach and on-the-fly production editing. FuzionXC2-37 accommodates boards up to 1,300 x 610 mm; 272, 8 mm feeder inputs, and range of input types: strip, tape, tube, odd-form, and tray. FuzionXC2-60 offers 264, 8 mm feeder inputs, larger board support, and on-the-fly part range.
---
Original Press Release:

Universal Instruments' Fuzion Platform Redefines Capacity and Utilization at APEX



Continuing its legacy of surface mount platform innovation, Universal Instruments Corporation will introduce its new Fuzion™ platform solutions, highlighted by the FuzionXC2-37 and FuzionXC2-60 models, on booth #1349 at APEX in San Diego, Calif., February 19–21. With more than twice the feeder inputs of alternative surface mount platforms, FuzionXC solutions reduce changeover requirements and optimize utilization, enabling electronics manufacturers to build better, build more, and spend less.



"Traditionally, SMT production lines have been built around cycle-time metrics. However, this approach falls short in today's higher-mix environments, where OEE rates of less than 30% and extremely low utilization rates are typical," said Universal CEO and President Jean-Luc Pelissier. "This is where Fuzion can provide a dramatic improvement," he added. "Fuzion redefines capacity and utilization—helping OEMs and CEMs alike maximize productivity while reducing costs," continued Pelissier. "Our FuzionXC2-37 and FuzionXC2-60 platforms have the highest feeder capacity available on the market. In addition, they leverage a powerful new suite of NPI software tools featuring an icon-driven interface and new efficiency tools, including on-line component auto-teach and on-the-fly production editing, to expedite NPI and ramp-to-volume, and deliver 100% first-pass yield. Fuzion solutions also benefit from all-new, easy-loading ion™ feeders with vastly improved ergonomics (30% smaller and 25% lighter) and a superior top-loading design that reduces replenishment and changeover times by 50%, making them particularly well suited for NPI to medium-volume production environments."



FuzionXC platforms minimize or eliminate changeovers by accommodating multiple product setups, fixed family schemes, or "feeder anywhere" flexible setup, while maximizing efficiency with duplicate or alternate feeder flexibility. This contemporary production model can boost utilization by 50%, resulting in a significant increase in output—enough to enable manufacturers to eliminate entire production shifts. By replacing multiple modules with a single FuzionXC, manufacturers can reduce capital expenditures and floor space consumption. In addition, Universal's FuzionXC solution substantially lowers production costs by requiring fewer operators and less training, maintenance, power and air consumption, and setup time.



Delivering all-in-one flexibility, Universal's FuzionXC2-37 allows manufacturers to quote any job in an increasingly uncertain environment. This versatile solution combines high-speed chip to extreme odd-form placements—from 01005 passive components up to 150mm connectors—with 5kg placement force and parts up to 25mm tall, all on the same platform. FuzionXC2-37 accommodates large boards up to 1300mm x 610mm, 272 8mm feeder inputs, and a full range of input types, including strip, tape, tube, odd-form, and tray.



"The FuzionXC2-37 is the ideal solution for a variety of needs," explained Universal Vice President of Customer Operations Brad Bennett. "It handles large boards, extreme component ranges, and various inputs, and has the ability to easily transfer to high-volume lines, making it a good choice for NPI requirements. It's also a solid, all-in-one solution for building many products on its own with virtually no limits," he added. "The FuzionXC2-37 can be a linebalancing solution to alleviate bottlenecks and boost throughput. And, since it's built on a dualbeam architecture with both high-speed and flexible heads that handle a full range of components, it can also serve as a high-speed multifunction solution."



The FuzionXC2-60 is equally impressive. This high-speed platform extends the capabilities of traditional chip solutions with 264 8mm feeder inputs, larger board support, and the largest onthe-fly part range available.



"The FuzionXC2-60 is a cost-efficient, high-performance turret replacement or high-input chip placer," commented Bennett. As a turret replacement, it delivers optimal productivity in a dramatically reduced footprint, increased board size and part range, and maximum utilization through greater feeder capacity, bank change, and splice. As a solution for high-speed chip placement, the FuzionXC2-60 offers twice the feeder capacity of alternative solutions, supporting multiple setups and minimizing changeovers, as well as featuring the broadest component range and no derate.



"While we will be highlighting the FuzionXC2-37 and FuzionXC2-60 at APEX, these are not the only Fuzion solutions we offer," noted Bennett. "We have a full portfolio of Fuzion platforms to suit every production environment, and we encourage manufacturers to stop by APEX booth #1349 to learn all about them."



For more information on Universal's surface mount solutions, including the FuzionXC2-37, FuzionXC2-60, and other Fuzion platforms, call +1-800-432-2607 or +1-607-779-7522 or visit www.uic.com for a complete list of the company's locations and channel partners.



Universal's Fuzion platforms redefine capacity and utilization at APEX



About Universal Instruments

Universal Instruments is a global leader in the design and manufacture of advanced automation and assembly equipment solutions for the electronics manufacturing industry. Universal provides complete assembly lines to EMS providers, ODMs and electronics assemblers around the world, leveraging its portfolio of compatible and flexible equipment platforms that address the diverse requirements of high-speed chip and multifunction placement applications as well as component insertion. Universal Instruments is headquartered in Binghamton, N.Y., with offices in Europe, Asia, and the Americas.



Universal contact

Jeffrey Zopff

Global Marketing Communications Manager

Universal Instruments Corporation

33 Broome Corporate Parkway

Conklin, NY 13748

USA

Tel: +1 607 779 5364

Email:

[email protected]



www.uic.com