Surface Mount Placement System handles boards up to 1,016 mm.
Press Release Summary: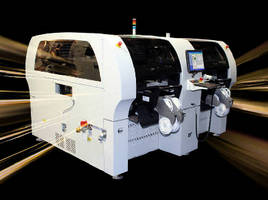 Powered by VRM linear motor with closed-loop 1 µm positioning, Genesis Series 2 is available 1-, 2-, and 4-beam configurations with throughputs up to 140,000 cph. Unit features 30-spindle Lightning® head, which places passives down to 01005, CSPs, WSPs, µBGAs, eCAPs, DPAKs, and MELFs at full speed. Vertical part sensor verifies part presence immediately prior to placement, while dual on-the-head cameras support components up to 30 x 30 mm and up to 6 mm tall.
---
Original Press Release:

Universal Introduces Powerful Genesis Series 2 at APEX 2011



Universal Instruments will launch its newest high-end surface mount placement platform,
the Genesis Series 2, on booth #1635 at the 2011 IPC APEX show located at Mandalay
Bay, Las Vegas, April 12-14. Genesis Series 2 is the most capable platform available,
delivering the ultimate in modular performance for standard to extreme surface mount
applications. A formal launch ceremony and introduction of the Genesis Series 2
Platform, followed by a press conference, will take place on the Universal booth on
Tuesday, April 12 at 10:15 a.m.

Universal Instruments' Genesis Series 2 Platform offers a superior level of performance and functionality for manufacturers who demand the best. Genesis Series 2 delivers high-accuracy, high-speed placement of passives down to 01005. Further, its ability to place 20mm square, .4mm-pitch uBGAs; QFNs; high-density, low-profile connectors, and tightly spaced 01005s make it well-suited for the booming tablet and smart phone markets. Genesis Series 2 stands alone with its unique ability to handle extreme applications, including odd-form and large board, making it the industry's most versatile and capable platform.

Universal Vice President of Marketing Debbora Ahlgren comments, "Genesis provided the
perfect foundation on which to build a platform that transcends the traditional surface mount boundaries and with Series 2 we succeeded." Ahlgren adds, "Genesis Series 2 leverages futureproof base technologies and forward-thinking enhancements to afford manufacturers high productivity for standard surface mount and higher-volume production, but easily adapt to unique or extreme applications regardless of the component or substrate requirements. From a performance standpoint, Series 2 offers a 20% line-to-line throughput improvement over the previous-series Genesis Platform."

Genesis Series 2 features several improvements over the previous-generation Genesis including increased throughput and a reduced cost of operation. The latter is the result of scrap and waste reduction from enhancements such as the Vertical Part Sensor (VPS) that verifies part presence immediately prior to placement, and higher-magnification cameras. A 75% reduction in changeover time is now possible with dual-Platform Tray Feeder (PTF) support and Line Manager's Flexible Feeder Setup, providing a distinct advantage in NPI production environments. Genesis Series 2 further expands on functionality with a substantial 40% increase in maximum board length up to 1016mm for large-board applications such as server production. Additional enhancements include an expanded Lightning Head component range, and track feeding for Lightning.

Genesis Series 2 is powered VRM linear motor technology with closed-loop 1µm positioning for superior accuracy and the ability to handle convergence and semiconductor applications. VRM technology is thermally stable to maintain accuracy over time with fewer moving parts for minimal maintenance and no adjustments.

The 30-spindle Lightning® head - the industry's fastest - delivers high-accuracy placement of passives down to 01005, CSPs, WSPs, µBGAs, eCAPs, DPAKs, and MELFs at full speed. This capability is a powerful asset in industrial and complex consumer production. Lightning also features dual on-the-head cameras provide high-magnification and wide field of view to vision components up to 30 x 30mm and up to 6mm tall, as well as the newly integrated Vertical Part Sensor.

The Magellan® digital upward-looking camera provides a large 55mm field-of-view to
minimize multiple scan requirements for large bumped and leaded devices, and the new Cognex vision system reduces the number of individual images required for these components by up to 40%. Magellan also incorporates a high resolution of 1024 x 1024 and multiple lighting schemes to facilitate small part feature recognition.

The Genesis Series 2 portfolio includes available 1-, 2-, and 4-beam configurations and three placement head options including the Lightning, InLine7and InLine4 heads, for throughputs of up to 140,000 cph on the 4-beam GC-120Q. A class-leading component range of 01005 passives through 150mm connectors and large overlapping range between placement heads enables manufacturers to maximize utilization and simply change the program - and not the line - to efficiently transition to new products.

Genesis Series 2 features a comprehensive set of hardware/software tools and an experienced applications team to take on any odd-form challenge, even those previously requiring manual assembly. A comprehensive suite of NPI software tools extend beyond new product introduction, assisting throughout production to achieve 100% first-pass yields and ensure the best possible PPM.

About Universal Instruments:

Universal Instruments is a global leader in the design and manufacture of advanced automation and assembly equipment solutions for the electronics manufacturing industry. Universal provides complete assembly lines to EMS Providers, ODMs and electronics assemblers around the world, leveraging its portfolio of compatible and flexible equipment platforms that address the diverse requirements of high-speed chip and multifunction placement applications as well as component insertion. Universal Instruments is headquartered in Binghamton, with offices in Europe, Asia, and the Americas.


More from Machinery & Machining Tools