Surface Mount Optocoupler is offered in BGA package.
Press Release Summary: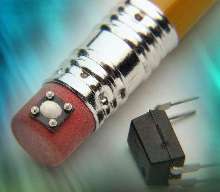 Model FODB100 Microcoupler(TM) consists of aluminum gallium arsenide IR LED driving silicon phototransistor. Single-channel optocoupler with transistor output is housed in 3.5 x 3.5 mm Ball Grid Array package with 1.20 mm max mounted height. Lead-free product operates over -40 to +125°C temperature range and includes isolation of 2,500 Vrms for 1 sec. Applications include consumer electronics, industrial power supplies, and motor controls.
---
Original Press Release:

Fairchild Semiconductor's Microcoupler(TM): The First BGA-Packaged Surface Mount Optocoupler to Offer Low-Profile, Small Footprint and 125°C Maximum Operating Temperature for Consumer/Industrial Applications


San Jose, Calif. - May 3, 2004 - Fairchild Semiconductor (NYSE: FCS) introduces the FODB100 Microcoupler(TM), the first single-channel optocoupler with a transistor output housed in a BGA (Ball Grid Array) package designed for consumer electronics, such as chargers, adapters, set-top boxes and appliances, as well as for industrial applications, such as power supplies and motor controls. The device's small package size (3.5 mm x 3.5 mm) and low profile (1.20mm maximum mounted height), combined with its very wide operating temperature range (-40°C to +125°C), meet the demanding requirements of consumer and industrial products. The single-channel optocoupler consists of an aluminum gallium arsenide infrared light emitting diode driving a silicon phototransistor. Featuring high isolation (2500 Vrms for 1 s) and high current transfer ratio at low input current levels, the Microcoupler is designed for conventional voltage isolation in power system feedback circuits and for isolating signals in high-voltage, electrically noisy environments.

"Fairchild's Microcoupler is at the forefront of surface mount optocoupler technology, which has rapidly progressed from the surface lead-form options of dual-in-line packages (DIPs), to small outline packages (SOPs), to mini-flat packages (MFPs), and now to BGAs," said Krish Ramdass, strategic marketing manager for Fairchild's Optocoupler Group. "The new FODB100, with its unique construction, offers designers not only a wider operating temperature than previous packages, but also the benefits of significant size reduction."

Fairchild's FODB100 Microcoupler is the first in a family of BGA-packaged optocouplers that will include dual and multiple channels. The FODB100 is available in tape and reel quantities of 3000 units. This lead-free (Pb-free) product meets or exceeds the requirements of the joint IPC/JEDEC standard J-STD-020B and is compliant with the European Union requirements, which will take effect in 2005. UL and VDE safety approvals are pending.

The addition of the BGA-packaged optocouplers further expands Fairchild's innovative package technology to include power discrete, power ICs and logic devices in BGA packaging, as well as FLMP, MicroPak and DQFN packaging.

Price: US$ 0.25 (1000 pcs)

FODB100 - Standard device in Tape and Reel

FODB100V - VDE approved version of FODB100

Availability: Now

Delivery: 8 weeks ARO

For more information about this product go to www.fairchildsemi.com/pf/FO/FODB100.html.

For information on other Fairchild products, design tools, and sales contacts, please visit www.fairchildsemi.com.

A PDF of the datasheet is available at www.fairchildsemi.com/ds/FO/FODB100.pdf.

About Fairchild Semiconductor:

Fairchild Semiconductor (NYSE: FCS) is a leading global supplier of high performance products for multiple end markets. With a focus on developing leading edge power and interface solutions to enable the electronics of today and tomorrow, Fairchild's components are used in computing, communications, consumer, industrial and automotive applications. Fairchild's 10,000 employees design, manufacture and market power, analog & mixed signal, interface, logic, and optoelectronics products from its headquarters in South Portland, Maine, USA and numerous locations around the world. Please contact us on the web at www.fairchildsemi.com.

More from Paints & Coatings