Surface Mount Module provides data and power isolation.
Press Release Summary: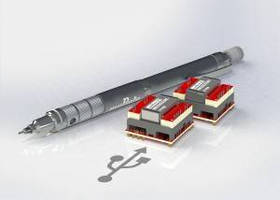 Able to switch automatically between full-speed (12 Mbps) and low-speed (1.5 Mbps) operation as required by application, NMUSB202MC provides 2-port USB data and power isolation from one upstream port. Module counts as 2 USB hubs for cascaded applications when used in conjunction with host controller and provides full 5 V/500 mA power to each downstream port. Standard 250 VRMS reinforced isolation provides safety as well as EMI immunity and eliminates ground loops.
---
Original Press Release:

Data Isolator Module Provides Data and Power Isolation



NMUSB202MC: MURATA COST EFFECTIVE MODULE PROVIDES DATA AND POWER ISOLATION IN CRITICAL USB ENVIRONMENTS



Murata announces the introduction of the NMUSB202MC, a surface mount powered data isolator module that conveniently provides dual port USB data and power isolation from a single upstream port. When used in conjunction with a host controller, a single NMUSB202MC module counts as two USB hubs for cascaded applications and provides full 5V/500mA power to each downstream port. 250VRMS reinforced isolation provides safety, immunity to EMI, and elimination ground loops.



The NMUSB202MC module's full compliance with USB 2.0 specification enables hassle-free, "plug and play" operation with any USB-compatible device. The module is able to switch automatically between full-speed operation (12Mbps) and low speed (1.5Mbps) as the application requires.



With an operating range from -40°C to +85°C, the NMUSB202MC meets requirements for industrial controls, sensor communications, and harsh environment installations. The high insulation resistance and 3kV isolation makes the NMUSB202MC ideal for use in medical environments.



Advanced surface mount design enables the USB isolation function with a single SMT component. Murata's proprietary manufacturing assures competitive pricing with a 3.3MHrs MTBF.



Contact details:

Murata Power Solutions, Inc.,

11 Cabot Boulevard

Mansfield, MA 02048-1151, USA

Tel: +1-508-339-3000 Fax: +1-508-339-6356

e-mail: muratapr@murata-ps.com



About Murata Power Solutions

Murata Power Solutions (www.murata-ps.com) is headquartered in Mansfield, Massachusetts, with over 1,300 employees worldwide. Murata Power Solutions designs, manufactures and distributes DC-DC Converter, AC-DC Power Supply, Magnetic and Digital Panel Meter product lines, and offers these products in custom, standard and modified-standard variations. Murata Power Solutions. products are typically used within electronic applications serving major global market sectors including telecommunications, computing and industrial controls.



Murata Power Solutions is a division of Murata Manufacturing Co., Ltd., a worldwide leader in the design, manufacture and sale of electronic components and power supply modules. Murata's devices are found in a wide range of applications including consumer and automotive electronics, and wireless devices. The company has employees and manufacturing facilities throughout the world.



Follow Murata Power Solutions on Twitter: @murataps