Surface Mount LEDs suit effect lighting applications.
Press Release Summary: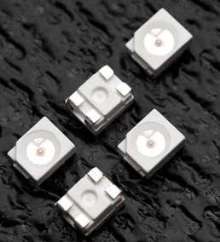 With luminous intensities up to 1,800 mcd, Cotco LM1-xxx-11 Power LED series is built on InGaAlP and InGaN technologies. They handle forward currents from 30-50 mA depending on wavelength and come in PLCC-4 package that measures 3.0 x 2.8 mm. Integrated reflector offers viewing angle of 120°, and operating temperature range is -40 to +100°F. Available colors include White, Blue, Blue-Green, Green, Yellow, Red-Orange, and Red.
---
Original Press Release:

Marktech Introduces the Cotco LM1 Power SMT LED


Menands, New York: Marktech Optoelectronics today announced the availability of its new Power SMT LEDs. The Cotco LM1-xxx-11 Power LED series offers high reliability and is ideally suited for effect lighting applications. Being built upon high efficiency InGaAlP and InGaN technologies, they are also designed to meet the demands of automotive and outdoor applications. They can handle forward currents from 30-50mA depending on wavelength. The LM1 Power SMT series features a standard PLCC-4 package measuring 3.0 x 2.8mm and has an integrated reflector that offers a generous viewing angle of 120 degrees. Because of its low power consumption this device is also ideal for backlighting, automotive signal lighting, marker lights, display and task lighting and an ever expanding array of signage applications. The cost-per-lumen advantage of these chips makes them an excellent choice for LED applications requiring uniform illumination.

Features

o Standard PLCC-4 SMT Package

o 120º Viewing Angle

o Integrated Reflector

o High Luminous Efficacy

o Low Thermal Resistance

o Operating Temperature range from -40 ~ +100

o Available colors: White (x=.31, y=.32), Blue (465nm), Blue-Green (502nm), Green (520nm), Yellow (594nm), Red-Orange (625nm), Red (639nm)

o Luminous Intensities up to 1800mcd

Pricing and Availability

Volume pricing for the Cotco LM1-xxx-11 Series ranges from $0.25 to $0.85 per 5K depending on color and is currently available through Marktech. For more information on these or any of our other LED or LED Driver products contact Marktech Optoelectronics at 120 Broadway, Menands, NY 12204, Phone: (800) 984-5337, FAX: (518) 432-7454, email: info@marktechopto.com. Website: http://marktechopto.com/lm1power/

Marktech Optoelectronics: Marktech has been an industry leader in the application and design of LEDs for over 15 years. Toshiba America Electronic Components, Inc. has chosen Marktech to handle all North American technical sales and marketing for their Tosbright® LEDs and Toshiba Constant Current LED Drivers. In addition to their Toshiba line Marktech also offers a wide range of standard Discrete, Surface Mount, and Dot Matrix Displays along with a complete line of Photo Sensors.

More from Test & Measurement