Surface Mount Grounding Contacts protect electronic devices.
Press Release Summary: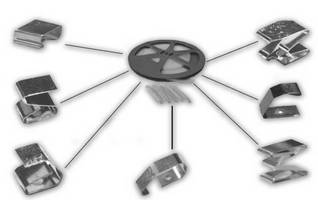 Designed for on-board grounding solutions, SMD Grounding Contacts provide protection for range of high-performance electronic devices. These 50+ standard SMD Grounding Contacts, made from beryllium copper, reduce and control noise in electronic applications. Different shapes and heights suit situations where large gaps must be bridged and low compression force is required. RoHS-compliant design features standard finish of gold over nickel; other options are available.
---
Original Press Release:

Laird Technologies Expands EMI Metals Product Line with SMD Grounding Contacts



SMD Grounding Contacts Specifically Designed for Electronics Applications



St. Louis, Missouri, USA – Laird Technologies, Inc., a global leader in the design and supply of customized performance-critical components and systems for advanced electronics and wireless products, today announced it has expanded its EMI Metals product line with SMD Grounding Contacts. The EMI product line is a core piece of Laird's value proposition to deliver solutions for today's smaller, more advanced electronics. As part of Laird Performance Materials (LPM), these products provide vital protection for a wide range of high-performance electronic devices.



Specifically designed for on-board grounding solutions, Laird Technologies offers more than 50 standard SMD Grounding Contacts to reduce and control noise in electronic applications. With different shapes and heights these new SMD contacts are ideal for situations where large gaps have to be bridged and low compression force is required.



"Today, customers of all industries value the high flexibility and advantage of receiving comprehensive business solutions from one source," said Manuel Klesinski, Laird Technologies Product Manager. "By offering Board Level Shields, Precision Stamped Metals, Connector Gaskets and now SMD Grounding Contacts we are able to offer the best solution for Printed Circuit Boards."



The SMD Grounding Contacts are made from Beryllium Copper and are RoHs compliant, with excellent physical, mechanical and electrical properties. Standard finish for these contacts is Gold over Nickel, with other options available. They will be packed and delivered in Tape & Reel for automated placement.



As an industry leader in high-performance and cost-effective EMI Solutions, Laird Technologies provides the knowledge, innovation, and resources to ensure exceptional grounding and shielding performance and customer satisfaction for applications in the automotive electronics, handset & mobile devices, industrial, medical, military, IT/Computing and consumer markets. For more information, please logon to www.lairdtech.com.



Contact Information

For additional information, visit www.lairdtech.com or contact us at:

Americas: +1-888-246-9050 option 2 or 

Europe: +49-(0)-8031-2460-0

Asia: +86-755-2714-1166 x374 CLV-customerservice@lairdtech.com



Translations

Translated versions of this press release are available in Simplified and Traditional Chinese, Japanese, Korean, and German languages.



About Laird Technologies, Inc.

Laird Technologies is a global technology company focused on providing components and solutions that protect electronic devices from electromagnetic interference and heat, and that enable connectivity through wireless applications and antenna systems.



Custom products are supplied to all sectors of the electronics industry including the handset, telecommunications, data transfer and information technology, automotive, aerospace, defense, consumer, medical, mining, railroad and industrial markets.



Laird Technologies, a unit of Laird PLC, employs over 9,000 employees in more than 46 facilities located in 16 countries.



Trademarks

© 2013 All rights reserved. Laird Technologies and its logo are trademarks of Laird Technologies, Inc. Other products, logos, and company names mentioned herein, may be trademarks of their respective owners.

More from Architectural & Civil Engineering Products