Surface Mount Frequency Mixer operates from 1-6,000 MHz.
Press Release Summary: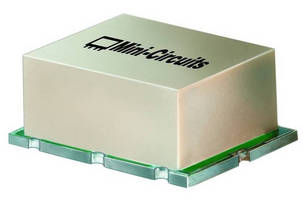 Featuring low-profile package, Model SYM-63LH+ provides IF response from DC-1,000 MHz and is useful in wideband system applications such as IED. Double balanced mixer utilizes core and wire transformers and diode quad in ring configuration. Transformers are designed to provide ultra wide bandwidth using simulation software together with proprietary transformer technology.
---
Original Press Release:

Frequency RF Mixers Featuring Ultra Broadband



Servicing the microwave component industry for over 40 years Mini-Circuits has come to known as the global leader in RF, IF and microwave signal processing components. Manufacturing over 25 product lines Mini-Circuits is the first choice for electronic design engineers. IF/RF microwave component solutions from DC to 21 GHz with over 10,000 models to choose from. Worldwide manufacturing & sales offices products include; RF microwave amplifiers, amplifiers, attenuators, bias-tee's, RF chocks, phase detectors, directional couplers, power splitters & frequency mixers are featured. A broad range and variety of surface mount, plug- in and coaxial components available for all applications for all application requirements. Expanding our product line we are proud to introduce ultra broadband 1 to 6000 MHz surface mount frequency mixer.

Now opening expanded applications possibilities our SYM mixer offers high isolation and good conversion loss across the band with a low profi le compact package. Our surface mount model SYM-63LH+ is an ultra broadband double balanced mixer utilizing core and wire transformers and a diode quad in a ring configuration. The transformers are designed to provide ultra wide bandwidth using simulation software together with Mini-Circuits proprietary transformer technology. These mixers provide an IF response from DC to 1000 MHz and are especially useful in wideband system applications such as IED.

Since 1969 Mini-Circuits has provided signal processing solutions. Full range of surface mount, coaxial & plug-in frequency mixers, power splitters, filters (low pass, high pass & bandpass), RF switches, transformers & VOC's (voltage controlled oscillators) lead the way of our extensive product line.

Engineers search by product line or search with a unique model search engine YONI 2. YONI 2 searches millions of data points from thousands of models to find a solution to meet your specific request. Also an extended line o products are offered in designer kit packages. Complete data on all models enables a quick evaluation of product performance. Featuring a commitment to innovation our products are hi-rel and ultra-rel with a 5 year guarantee. A partner program is offered to lower customers cost. IT (innovative technology) products offer smaller size, and better performance for a lower cost. Our Blue Cell product lines offer low temperature co-fired ceramic models. Surface mount products are available in Tape 'n Reel. Quality assurance certified to ISO 9001, certified aerospace standard AS9100, environmental regulations ISO 14001 certified and products are RoHS compliant.

International manufacturing and sales offices provide worldwide distribution, contact us for worldwide tech support call 718-934-4500, 800-654-7949 or customer service Fax; 718-934-7092, email us at sales@minicircuits or visit our website www.minicircuits.com for all our contact and product information.

Related