Surface-Mount Circulators target WiMAX applications.
Press Release Summary: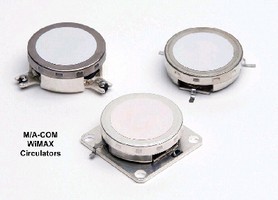 Housed in RoHS-compliant packaging, single-junction M/A-COM Models MAFR-000229-000001, MAFR-000050-5S4C1T, MAFR-000200-5S4C1T, and MAFR-000159-5S4C1T operate at frequencies of 2.3-2.5, 2.5-2.7, 3.3-3.4, and 3.4-3.6 GHz, respectively. Units feature typical insertion loss of 0.20 db with 25 dB isolation. Each part has intermodulation characteristics of 65 dBc and will provide peak power handling of 1,000 W with CW forward and reverse power handling of 200 W.
---
Original Press Release:

Tyco Electronics Announces New Family Of M/A-COM Surface-Mount Circulators



Single-Junction Circulators Ideally Suited for WiMAX Applications

LOWELL, Mass. - June 5, 2007 - Tyco Electronics today announced a new family of single-junction surface-mount circulators ideally suited for various WiMAX (Worldwide Interoperability for Microwave Access) applications. The M/A-COM MAFR-000229-000001, MAFR-000050-5S4C1T, MAFR-000159-5S4C1T and MAFR-000200-5S4C1T circulators are high performance, reliable products that split the WiMAX frequency bands and are ideal for CPE (customer-premises equipment), base stations and repeater equipment.

"The introduction of our new circulator line is another example of the innovative technology solutions that Tyco Electronics has developed over the last few years, which complement the growth of the WiMAX market," said Barry Fitzgibbon, product manager, Tyco Electronics M/A-COM infrastructure products. "We are proud to make this device line available to our customers around the world who need cost-effective circulator solutions that meet all of their WiMAX equipment requirements."

The new M/A-COM family of circulators has a typical performance of 0.20dB insertion loss with 25dB of isolation. Each part has excellent intermodulation characteristics of 65dBc and will provide peak power handling of 1,000 watts with CW (continuous wave) forward and reverse power handling of 200 watts. The circulators are housed in RoHS, low-cost packaging, and operate at the following frequencies:

-MAFR-000229-000001 from 2.3GHz - 2.5GHz
-MAFR-000050-5S4C1T from 2.5GHz - 2.7GHz
-MAFR-000200-5S4C1T from 3.3GHz - 3.4GHz
-MAFR-000159-5S4C1T from 3.4GHz - 3.6GHz

Price and Availability
Each M/A-COM circulator is available from stock and is priced at $13.64 in quantities of 10,000. Contact Tyco Electronics M/A-COM products domestic and international sales channels for price and delivery quotes. Datasheets and supporting technical documents are available online at www.macom.com.

ABOUT TYCO ELECTRONICS
Tyco Electronics, currently a business segment of Tyco International Ltd., is a leading global provider of engineered electronic components, network solutions and wireless systems, with 2006 sales of US$12.7 billion to customers in 150 countries. Tyco Electronics designs, manufactures and markets products for customers in industries from automotive, appliances and aerospace and defense to telecommunications, computers and consumer electronics. With over 8,000 engineers and worldwide manufacturing, sales and customer service capabilities, Tyco Electronics' commitment is its customers' advantage. More information on Tyco Electronics can be found at www.tycoelectronics.com.

o M/A-COM, the TE Logo and Tyco Electronics are trademarks.

o Other products, logos, and company names mentioned herein may be trademarks of their respective owners.

For sales information, please contact:
M/A-COM, Inc.
1011 Pawtucket Blvd.
Lowell, MA 01853
United States - 1.800.368.3277
Canada - 1.800.368.3277
Middle East/Africa -- +1.434.455.9229
Asia/Pacific -- +1.434.455.9223
Europe -- +1.434.455.9219
Latin America -- +1.434.455.9229

Contacts:
Product Communications:
Pat Hindle
978-442-4825
hindlep@tycoelectronics.com

More from Materials