Pressure Sensors / Detectors / Transducers
Surface Mount Audio Alert offers tape and reel packaging.
Press Release Summary: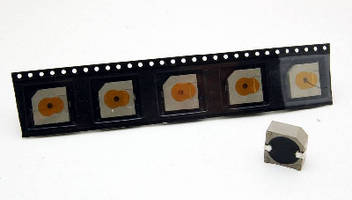 Measuring 12 x 12 x 6 mm, Model TRSIE-11XX provides sound output of 90 dBA minimum at frequency of 2,400 ±500 Hz. Internal drive, electro-mechanical alert unit is available in two voltage specifications of 5 or 12 Vdc at 15 or 20 mA, respectively. Operating from -30 to +70°C, device comes in flow solder-compatible plastic sealed housing. Tape and reel packaging is available on request.
---
Original Press Release:

Enhanced Production Process Enhanced by Tape & Reel Packaging Provide Even Lower Costs



Total low cost for this Surface Mount Audio Alert Make them a lead candidate for disposable consideration.



Particularly useful for design applications where small size, low cost and possible end user disposal are key considerations, Transducers USA's new Model TRSIE-11XX is a standout for use in considerations, such as medical portable field service units, consumer usage material and any of a myriad of other portable needs spanning a plethora of industrial and telecommunication markets.



Coupled with the low piece part cost TRANSDUCERS USA has added packaging to reduce the cost of production with high speed low tape and reel packaging. This will allow the user to get the lowest piece price without adding high cost insertion.  Reels are available in various sizes depending on the application needs.



The model TRSIE-11XX is an internal drive electro-mechanical, ultra small, surface mount audio alert unit measuring a mere 12x12x6mm. It provides a sound output of 90dBA minimum at a frequency of 2400 ±500Hz and is available in two voltage specifications of either 5 or 12 VDC @ 15 or 20 mA respectively. The operating temperature range is from -30 to +70C. Packaging is flow solder compatible plastic sealed housing. The tape and reel packaging is available on request.



Current pricing is being quoted as low as $.69 ea. in lots of 5,000 pieces, with delivery quoted at from stock to 6 weeks ARO depending on quantity requirement. Requests for samples, as well as for detailed specifications and specific quantity/price quotations should be addressed to Transducers USA's main office and warehouse located at:



1400 Howard Street

Elk Grove Village, IL 60007

Tel. 1-(888) 921-6400

Fax: (847) 956-1950

E-mail:

[email protected]



Web: www.tusainc.com



Transducers, USA markets an extensive line of piezo buzzers, ceramic elements, speakers, receivers, microphones and ultrasonic sensors and emitters to the telecommunications, medical and specialized product industrial markets throughout North America. Most of their products are certified under ISO-9002 with many having ISO-9001 and/or QS-9000, and are manufactured in modern facilities in Taiwan, China and Korea.



Company Contact:

Joe Sieracki

(847) 956-1920



Press Contact:

Len Cravath

(847) 291-8366