Surface Mount Antennas promote design flexibility.
Press Release Summary: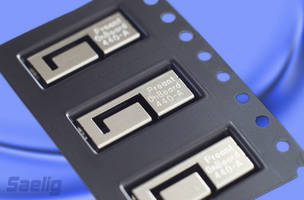 Fostering embedded antenna integration within mobile wireless products, Proant OnBoard™ SMD 2400 (2.4 GHz band) and SMD GPS (GPS and Glonass) miniature surface-mount antennas are optimized for performance and design flexibility. Capacitively loaded footprint of antenna's supporting pins eliminates need of dielectric substrate. RoHS-compliant, 50 Ω, surface mounted (SMD) sheet metal solutions are suitable for high-volume manufacturing and designed to satisfy engineering and sourcing needs.
---
Original Press Release:
Saelig Introduces Low Cost SMD Antennas
OnBoard SMD 2400

Fairport, NY: Saelig Company, Inc. announces the availability of the Proant OnBoard™ SMD 2400 (2.4GHz band) and SMD GPS (GPS and Glonass) miniature surface-mount antennas for mobile wireless products. The OnBoard series moves embedded antenna integration one step ahead by combining high performance and low cost in this new OnBoard™ SMD family.

Traditionally, small low cost antennas for printed circuit board assembly have been manufactured with a dielectric substrate as the base for the radiating structure. With this approach, the antenna is normally a rectangular block, which means that the PCB area below the antenna is unavailable for mounting other components. Another drawback is that the substrate itself introduces dielectric losses to the antenna, reducing its total efficiency.

Proant has taken the concept of small SMD antennas one step ahead by increasing both the antenna performance and design flexibility, and combining this with low cost and manufacturability. The result is the new OnBoard™ SMD antenna family which builds on previous OnBoard™ antennas, but in a surface mounted sheet metal solution, packaged in tape-on-reel and suitable for high volume manufacturing. One of OnBoard's key features, which eliminates the need of the dielectric substrate used in other SMD antennas, is the patent-pending capacitively-loaded footprint of the antenna's supporting pins - which significantly reduces losses and increases the performance.

The first two products to be launched in this 50 ohm RoHS-compliant family are OnBoard™ SMD 2400 (2.4GHz band) and SMD GPS (GPS and Glonass). Future variants will include WLAN dual-band, 868/915MHz, and GSM versions.

"We wanted to simplify antenna integration for our customers" says Tomas Rutfors, CEO of Proant. "The solution was to make a simple product which satisfies both engineering and sourcing needs. With the OnBoard™ SMD family, we have defined a new product segment which didn't exist before."

Made in Sweden by Proant AB, a widely respected specialist antenna company in the M2M and wireless market, providing a wide range of embedded and external antennas, OnBoard™ SMD 2400 (2.4GHz band) and SMD GPS (GPS and Glonass) are available now at under $1.00 (1000 pcs) from Saelig Company, Inc., their USA technical distributor. A demonstration board is also available at $35.00. For detailed specifications, free technical assistance, or additional information, please contact Saelig 1-888-7SAELIG, via email: info@saelig.com, or visit www.saelig.com.

About Saelig Company Inc.
Founded in 1988 in Rochester, New York, Saelig is a North American distributor with a growing reputation for finding and sourcing remarkable, unique test and measurement and control products and components for use in a wide variety of industries. Products lines are continuously added from sources across the globe, and are offered at competitive prices, accompanied by full in-house technical support, exceptional customer service, and fast delivery. For full details of available product lines, please visit www.saelig.com.

High Quality Image   http://www.saelig.com/supplier/proant/smd2400.jpg

Press Release Link   http://www.saelig.com/pr/smd2400.html

Contact Information
Email: info@saelig.com
Phone / Fax: 585-385-1750  / 585-385-1768
Web: http://www.saelig.com
Related