Surface Microphone integrates preamplifier and TEDS chip.
Press Release Summary: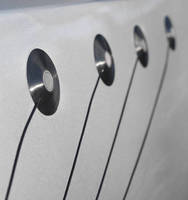 Featuring integral constant current power (CCP) amplifier and TEDS chip, GRAS Surface Microphone Type 40PS is designed for general-purpose, larger channel count acoustic measurements on typical planar and curvilinear surfaces. It mounts directly on surface and does not require microphone holder/stand. Nominal sensitivity is 5 mV/Pa @ 250 Hz, frequency range is 20 Hz to 20 kHz, and dynamic range is rated from less than 30 dBA to 136 dB. Integral 1 m coaxial cable has microdot connector.
---
Original Press Release:

G.R.A.S. Sound & Vibration Debuts Surface Microphone with Integral CCP Preamplifier and TEDS Capabilities



Holte, Denmark - G.R.A.S. Sound & Vibration (G.R.A.S.)(www.gras.dk), a globally renowned designer and manufacturer of precision acoustic measurement solutions, including microphones, preamplifiers, acoustic calibration equipment and accessories, has introduced the G.R.A.S. Surface Microphone Type 40PS with integral constant current power (CCP) amplifier and TEDS, designed for general purpose larger channel count acoustic measurements on typical planar and curvilinear surfaces within automotive, aeronautical, general acoustics and sound pressure level testing applications.

The lightweight, stable and robust design of the G.R.A.S. Surface Microphone Type 40PS requires no microphone holders or stands but is mounted directly on the surface of interest. Units offer a nominal sensitivity of 5 mV/Pa (@ 250 Hz), a wide frequency range from 20 Hz to 20 kHz and large dynamic range from <30 dBA to 136 dB over an operating temperature range of -20 to +80ºC (-4 to +176ºF) with low sensitivity to base bending. The microphone is delivered with a built-in TEDS chip, allowing it to be programmed together with any TEDS-capable data acquisition system to form a complete acoustic measurement system. The G.R.A.S. Surface Microphone Type 40PS features an integral 1 meter coaxial cable with microdot connector and is delivered with a supple detachable silicon rubber fairing. Because of its lightweight design, the microphone with fairing can be either laid flat on its 51 mm (2-inch) diameter rubber pad or near-flush mounted on curvilinear surfaces using double sided adhesive tape.

Close manufacturing tolerances and the advantages of TEDS enable the microphone to offer a high degree of interchangeability, precluding the need for accounting of individual characteristics. Pressure equalization is achieved via a vent placed at the front of the microphone by the side of its diaphragm, important for both aircraft usage and on-road vehicle measurements. Recommended accessories include the G.R.A.S. Handheld Pistonphone Calibrator Type 42AA and the G.R.A.S. CCP Power Supply Type 12AL, or any other CCP-compatible power supply. For more information about the G.R.A.S. Surface Microphone Type 40PS or other products available from G.R.A.S. Sound & Vibration, visit www.gras.dk