Surface Measurement System offers dual profile analysis.
Press Release Summary: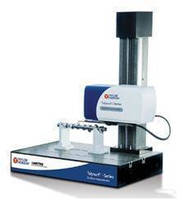 Based on low-noise metrology frame (<8 nm), high-precision manufactured datum, and software datum correction, Form Talysurf i-Series provides accurate and repeatable results with straightness specification of less than 0.15 µm. High-resolution gauge measures curved or flat surfaces for contour and surface finish, while i-Series' measurement analysis package provides least squared line, arc, and polynomial form removal plus up-to-date filtering techniques.
---
Original Press Release:

New Form Talysurf I-Series Combines High-Accuracy Surface Measurement with Cost-Effective Performance



WEST CHICAGO, IL --The new Form Talysurf i-Series precision surface measurement tool from Taylor Hobson, a global leader in ultra-precision measurement instruments, offers such features as industry-leading precision gauges and datums, simultaneous surface finish and contour measurement, and a full suite of roughness and waviness parameters.



The new Talysurf i-Series is ideal for the shop floor environment and provides excellent value for the money. The versatile instrument combines Taylor Hobson's decades of experience in high-accuracy surface measurement with its expertise in ultraprecision machining. It relies on a low-noise metrology frame (<8nm), a high-precision manufactured datum, and software datum correction to guarantee accurate and repeatable results and a best-in-class straightness specification of less than 0.15um. 



The Talysurf's high-resolution gauge measures curved or flat surfaces for contour and surface finish. I-Series' measurement analysis package includes least squared line, arc, and polynomial form removal plus the most up-to-date filtering techniques. These include but are not limited to spline and robust Gaussian filters and a complete set of parameter definitions set to the latest international standards.



New Quick Start Technology (QST) aids in improving measurement speed and set up time. QST technology aids the quick spot check of parts and ensures ease of use for any operator; helping to reduce training time and cycle time. The new i-Series also allows operators to save interrupted measurements.



The new Talysurf i-Series comes with Taylor Hobson's Dual Profile Analysis, a powerful utility that allows the analysis of two consecutive profiles and can be used to demonstrate not only instrument repeatability but also the integrity of the measurement taken.



Optional Q-Link software allows for simple use and automatic summary reports and is fully accredited by Q-DAS. Q-Link is built to automatically create Q-DAS file formats, which automatically import such details as part number, serial number, line number, batch number, operator, etc.



Q-Link also can be equipped to work seamlessly with any barcode scanner, allowing an operator to simply scan a part and have the part program begin in a fully automatic fashion. Q-Link also has the ability to report results in a simple CSV format for compatibility with other SPC packages. By permitting automated operation and part traceability, Q-Link is a powerful tool for practically any work environment. 



Taylor Hobson is a leading manufacturer of ultra-precision measurement instruments for a variety of markets, including optics, semiconductors, hard disk drives and nanotechnology research. It is a unit of AMETEK, Inc, a leading global manufacturer of electronic instruments and electromechanical devices, with 2014 annual sales of $4.0 billion.



For more information on its full line of ultra-precision measurement instruments, contact Taylor Hobson, 1725 Western Dr, West Chicago, IL, U.S.A. Tel: +1 (630) 621 3099. Fax: +1 (630) 231 1739. E-mail: taylor-hobson.sales@ametek.com.  Web site: www.taylor-hobson.com

More from Material Handling & Storage