Surface Grinder is designed for mold and die manufacturers.
Press Release Summary: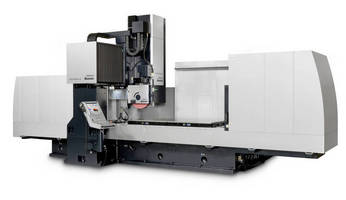 Capable of basic surface, slot, side face, and profile grinding with optimal straightness, flatness, and mirror finish over 2,000 x 1,000 mm area, ACC-208CHiQ double column, gantry-type surface grinder features 500 mm dia x 100 mm wide wheel driven by 22 kW motor and shift-plunge grinding cycles. Overhead dressing for rough grinding, combined with table top dressing for finishing, reduces cycle times, while touchscreen iQ control combines CNC technology and GUI for efficient operation.
---
Original Press Release:

High-Precision Surface Grinder for Mould and Die Manufacture



A new, high precision, surface grinding machine, the double column, gantry-type ACC-208CHiQ, has been introduced by Okamoto to satisfy demand for top accuracy machining of, for example, motor core dies for the hybrid car sector, or high precision dies used in die coating equipment. The machine is available in the UK through sole sales and service agent, NCMT.

Die and mould components are often large but still require the very best straightness and flatness together with a mirror finish, which the ACC-208CHiQ achieves over 2,000 mm x 1,000 mm. High productivity is achieved by features such as a 500mm diameter by 100 mm wide wheel driven by a 22kW motor and shift-plunge grinding cycles. Cycle times are further shortened by combining overhead dressing for rough grinding with table top dressing for finishing.

The new generation of Okamoto's gantry-type, double-column surface grinders brings together years of experience in building such machines with the latest touch screen iQ control. It combines modern CNC technology with an improved graphical user interface developed exclusively by Okamoto. It is capable of basic surface grinding, slot grinding, side face grinding and profile grinding. The easy-to-use software also offers a quick and simple way to make radius or angle wheel shapes via the touch screen.

The ACC-208CHiQ owes its high flatness and straightness accuracy not only to precision, hand scraped table slideways but also to the clever design and accuracy of the cross rail gantry structure. This enables super accurate mechanical adjustment of the gantry slide straightness and does not rely on software correction via the control (patent pending). The actual measured straightness value of the gantry is 0.8 mm over 900 mm. The compact design of the double-column grinding machine requires no more installation space than a standard, single-column machine.

Okamoto has been developing and building gantry type double column surface grinders for many years. In December 2007, it completed the world's largest ultra-precision surface grinder with a hydrostatic slideway and put it into operation grinding the next generation of Okamoto grinders at the company's Annaka factory in Japan. The gross weight of the machine's main body is 250 tons and it is capable of handling a workpiece up to 10 metres in length by 4 metres in width.

On behalf of: NCMT Limited, Ferry Works, Summer Road
Thames Ditton, Surrey KT7 0QJ
Tel: 020 8398 4277. Fax: 020 8398 3631.
Web: www.ncmt.co.uk
E-mail: daveburley@ncmt.co.uk
Contact: Dave Burley, Managing Director.

Issued by: THE RIGHT IMAGE Ltd,
PO Box 42, Twickenham, TW1 1BQ.
Tel: 020 8891 0603.
E-mail: chris@therightimage.net
Contact: Chris Wright.

More from Electronic Components & Devices