Surface Finish Gage features Bluetooth wireless drive unit.
Press Release Summary: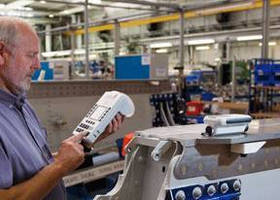 Capable of taking surface finish measurements up to 4 m from evaluation unit, portable MarSurf® M 300 can take measurements in any position, and has measuring range of up to 350 µm. It offers measurement cut-off length selections of 0.08-2.5 mm, surface parameters conforming to ISO, ASME, JIS, and other standards, and can store up to 40,000 measurement results and 30 profiles. Unit includes PHT 6-350 probe, height adjustment bracket, and power supply with 3 plugs for 90-264 V input.
---
Original Press Release:

Next Generation MarSurf® M 300 Features Bluetooth Wireless Drive Unit



o Takes surface finish measurements up to four meters from Evaluation Unit

o Measures to ISO/ASME/JIS standards, stores 40,000 measurements

PROVIDENCE, RI - Mahr Federal has introduced the next generation of portable surface finish measuring instruments with the new MarSurf® M 300. The first surface finish instrument to offer cable-free Bluetooth connection between drive and evaluation units, the new MarSurf M 300 also incorporates a host of features to enhance the quality, versatility, and performance of the measurement process.

"Adding the wireless connection between drive and evaluation units has really opened up the potential for this type of handheld instrument," said Pat Nugent, Vice President Metrology Systems for Mahr Federal. "By separating the computing and display functions from the probe unit, we've been able to dramatically increase power and functionality while retaining the flexibility, economy, and ease of use which have made handheld surface finish instruments so popular."

The MarSurf M 300 offers a wide range of surface parameters conforming to ISO, ASME, JIS, and other standards, and the innovative user interface ensures ease of use for operators in 15 languages. Measurement cut-off length selections between 0.08 mm (.003") and 2.5 mm (.100") can be selected by the user or automatically determined by the M 300 based on the actual surface profile being measured.

The M 300's integrated memory can store up to 40,000 measurement results and 30 profiles. When used with the optional PC-based M300/PS1 Explorer software, these results and profiles can be transferred to a computer for further evaluation and printing.

The MarSurf M 300 has a measuring range of up to 350 µm (.014 in) and includes a dynamic calibration function with an integrated roughness standard. Measurement results include tolerance monitoring with date and time of measurement. The separate evaluation unit for the MarSurf M 300 features a brilliant illuminated color display and an integrated thermal graphics printer. Measurement result data can also be transferred to a PC via USB-interface.

The MarSurf M 300 drive unit can be connected via wireless Bluetooth or cable. Ergonomically designed, the unit can take measurements in any position, and the prismatic shaped bottom can even act as a vee block for positioning small parts. Threaded sockets in the undercarriage allow the attachment of accessories, and rechargeable batteries provide capacity for approximately 1,000 measurements before recharging.

The MarSurf M 300 comes in its own handy carrying case with shoulder strap, and in addition to the drive and evaluation units, includes as standard a PHT 6-350 probe, height adjustment bracket, and power supply with three plugs for input voltages from 90 to 264 V. Available accessories include a range of different probes, measuring stands, and part mounting devices.

Mahr Federal Inc., a member of the Mahr Group, is known worldwide for its expertise in providing dimensional measurement solutions. The ISO 9001:2000-certified company is headquartered in Providence, RI, and manufactures and markets a wide variety of dimensional metrology products. Mahr Federal's calibration system is accredited to ISO 17025 NVLAP Lab Code 200605-0.

For additional information, contact:

Marketing

Mahr Federal Inc.

1144 Eddy Street

Providence RI 02905 USA

Tel: (800) 333-4243 or (401) 784-3100

Fax: (401) 784-3246

Email: information@mahr.com

Web site: www.mahr.com

Contact:
Mahr Federal Inc.
Gary Robison
1144 Eddy Street
Providence RI 02905 USA
(401) 784-3275

More from Sensors, Monitors & Transducers